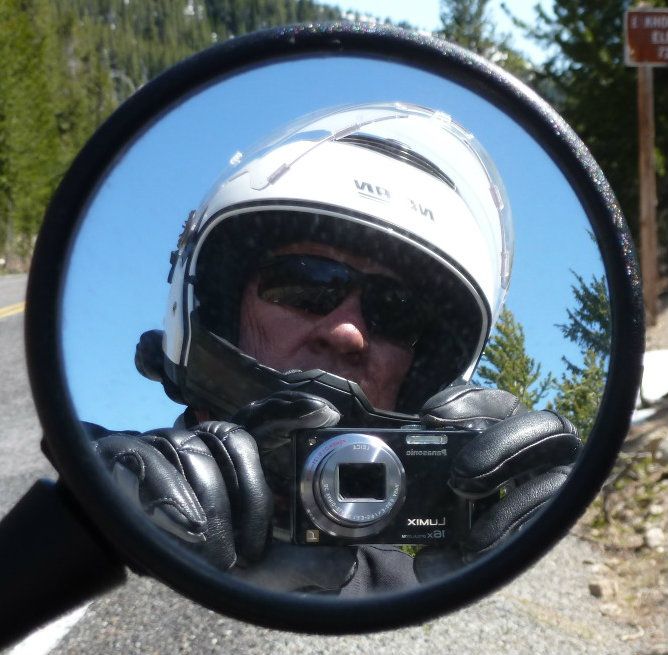 Posts: 283
Location: Tacoma, WA, USA
I posted all the details about this trip on Adventure Rider, but I know a lot of members here don't frequent that forum, so I thought you folks might enjoy hearing about it. My style is to tell the story with many pics and few words. Here we go . . .
xxxxxxxxxxxxxxxxxxxxxxxxxxxxxxxxxxxxxxx

On July 25 2013, Kirby and I headed out to the Bigfoot Sidecar Rally about 550 miles from our home in Tacoma WA. After the Rally, our plan was to ride the Great Divide Route (aka the Continental Divide Trail) from Banff to Mexico. This route is 90% dirt and gravel roads and it crosses and re-crosses the Continental Divide 30 times. Here we are packed for a 30-day camping trip--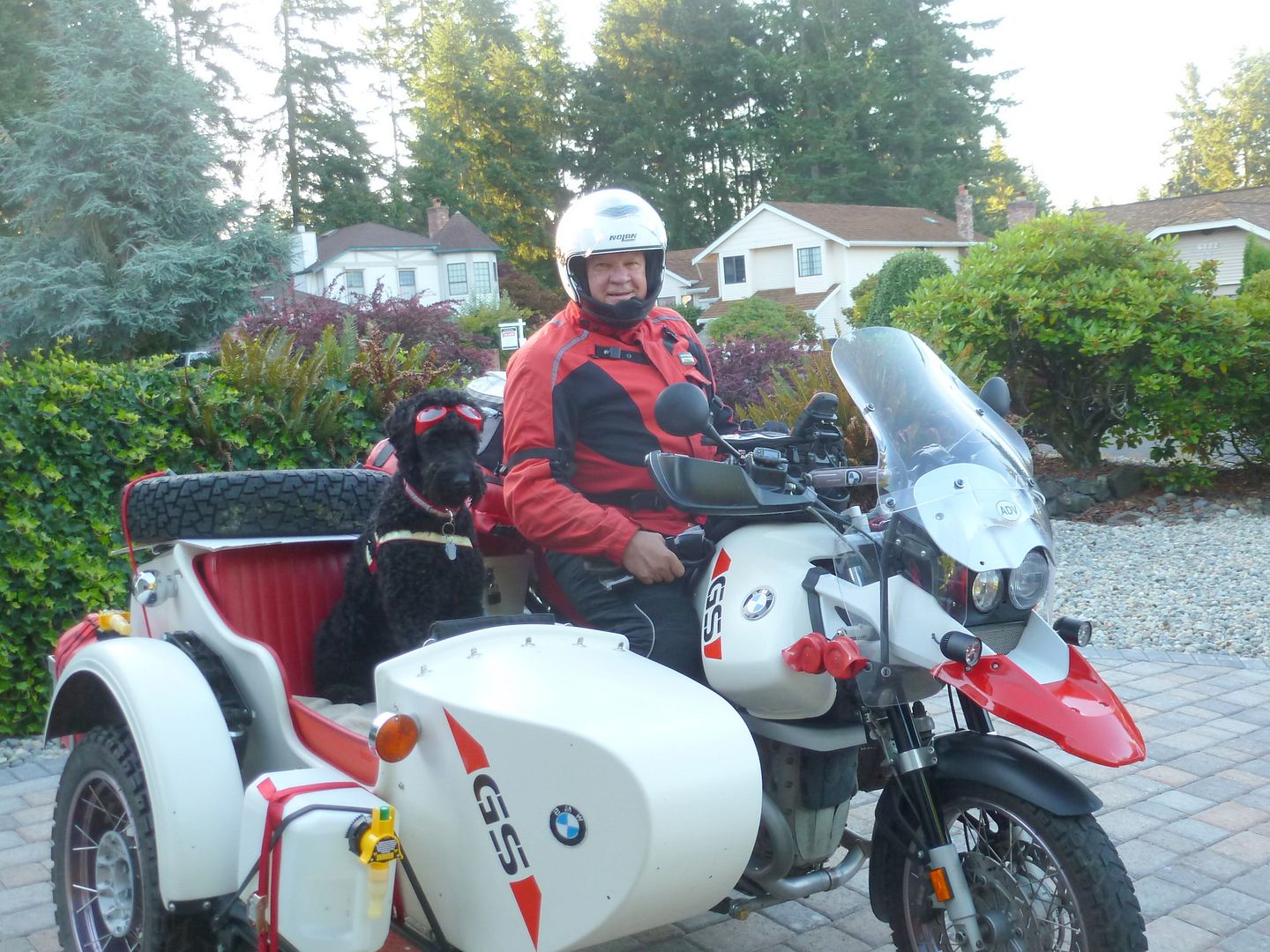 Rode up I-5 North then over WA 20 North Cascades Highway to Winthrop where we stopped for lunch. Took Forest Road 37 over Baldy Pass from Winthrop to Conconully. Pic from Road 37--





Camped at Fish Lake that night then continued on to Nelson BC and the site of the Bigfoot Rally just south of Kaslo. Kirby tends to attract attention from the ladies. You can't see him from this angle but rest assured he's there--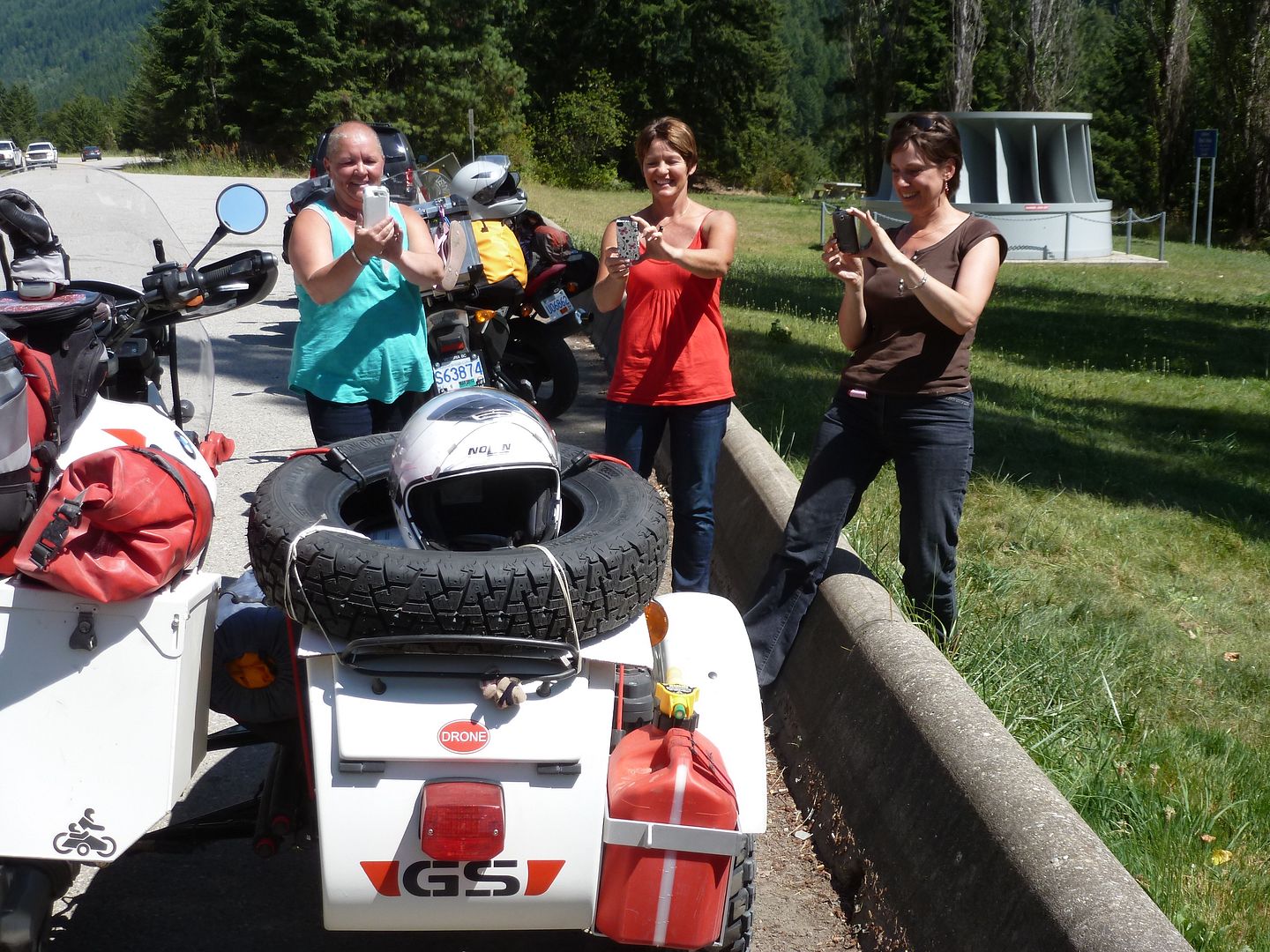 Next day we took a ride up Duncan Lake. Not a soul within 10 miles of here. Pretty much unspoiled wilderness--



We did this ride with our buddy Steve who rides a rig almost identical to ours--
Lunchtime view north up the lake treading water 30' from shore (it was hot!)--





Next day we did a VERY spirited ride
to Sandon on Rt 31A then headed up to the viewpoint on Idaho Peak--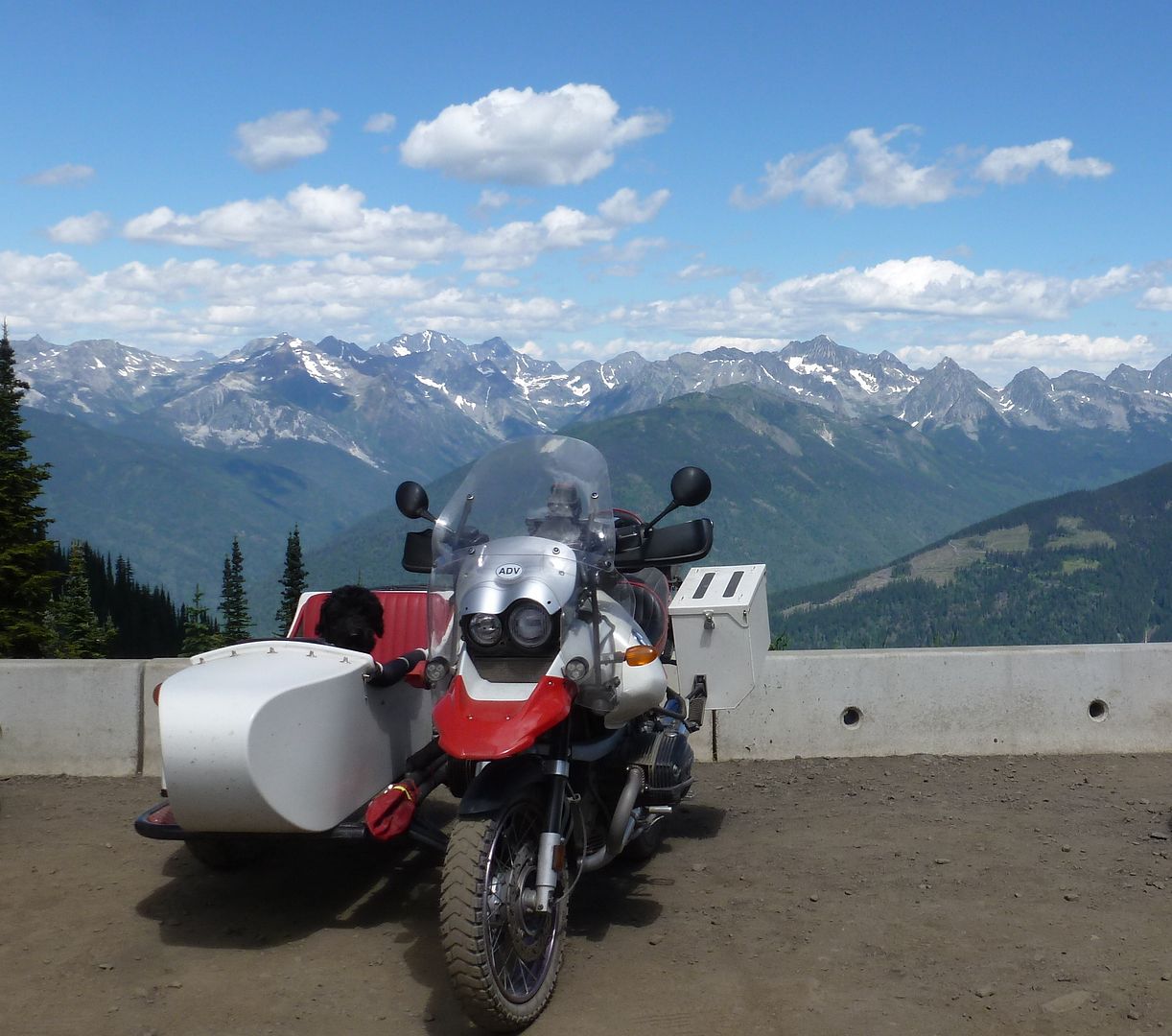 There were three of us that went to the top--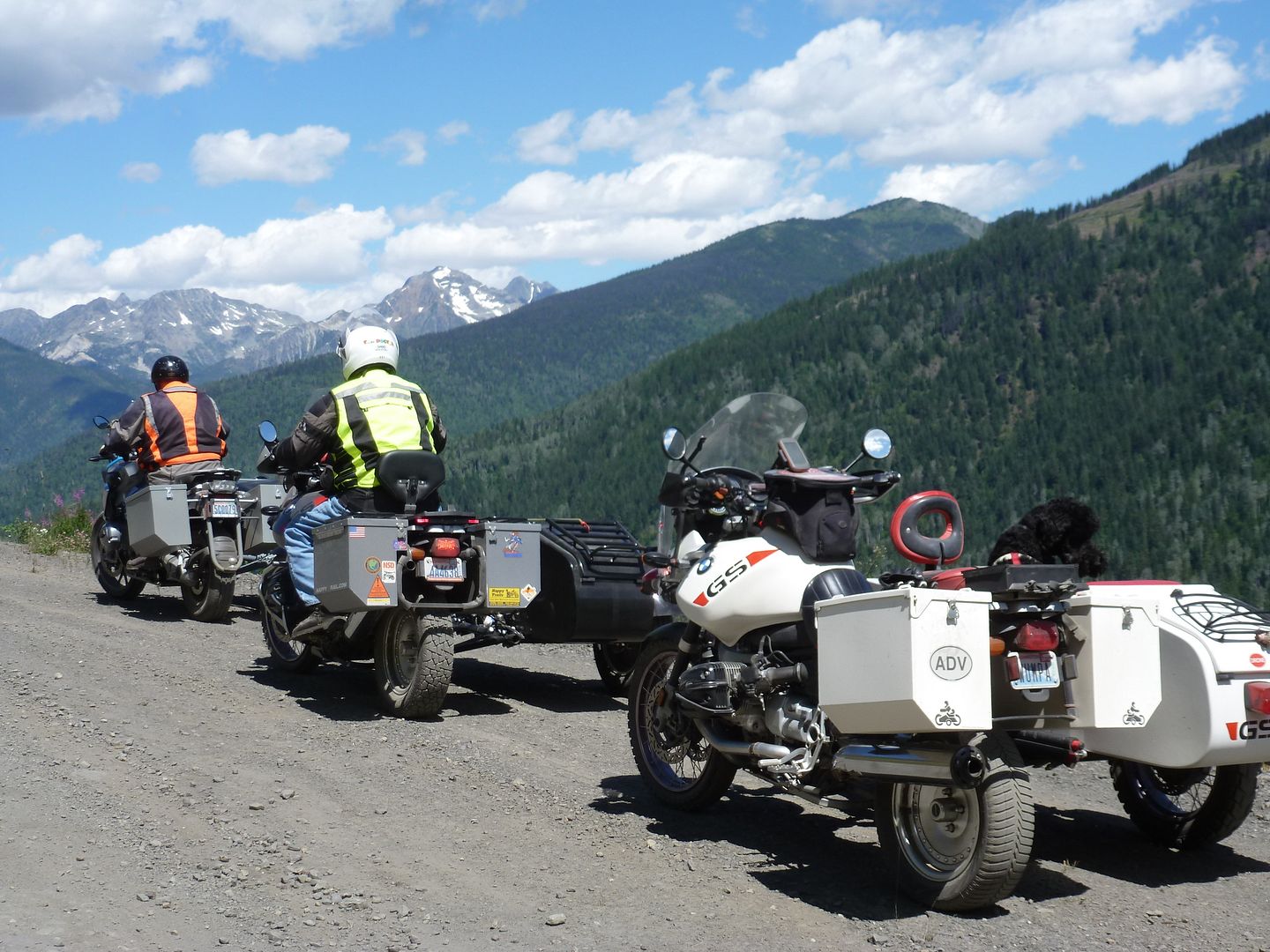 When you ride uphill to a dead end you gotta come back down again--





July 29--the last day of the Bigfoot Rally, I partnered up with Kel from Colorado with his KLR rig and we headed north.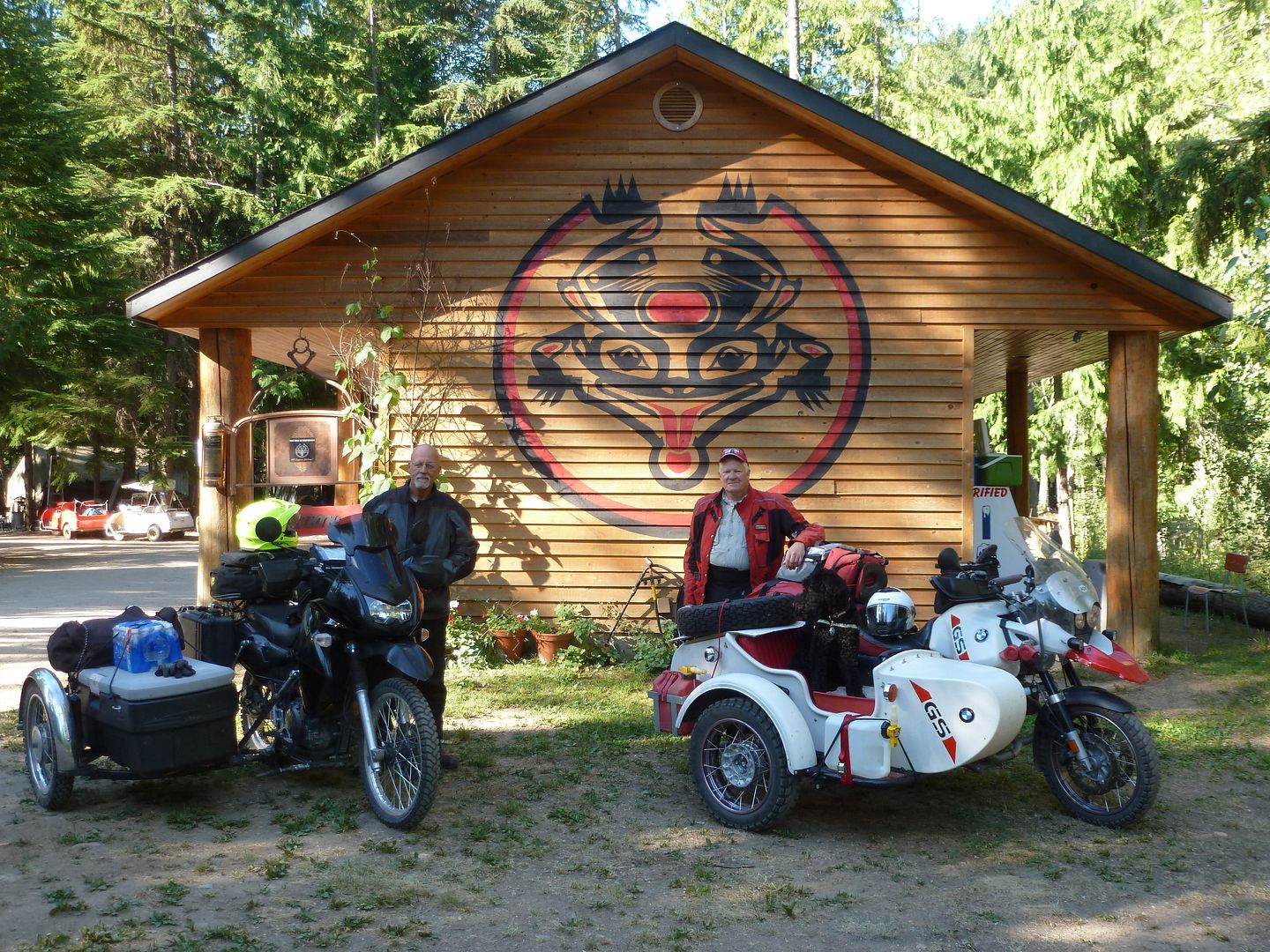 Breakfasted at The Treehouse in Kaslo then took Rt. 31A to New Denver and up Rt. 6 alongside Slocan Lake and Upper Arrow Lake to the Galena Bay ferry. The view looking north from the ferry--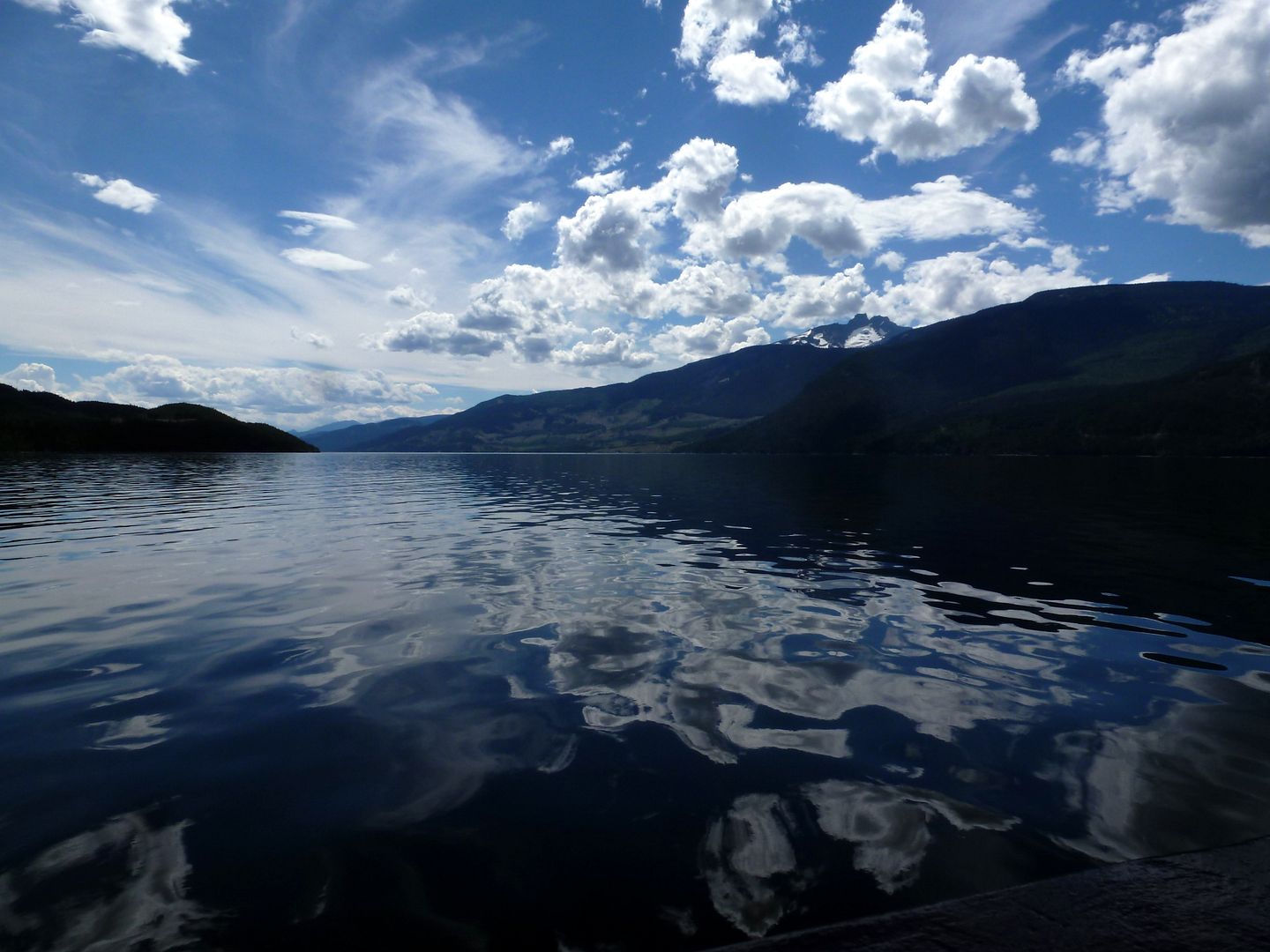 Followed Rt. 23 to Revelstoke and had a late picnic lunch in a park. Then went looking for a campsite. Scenery near Revelstoke--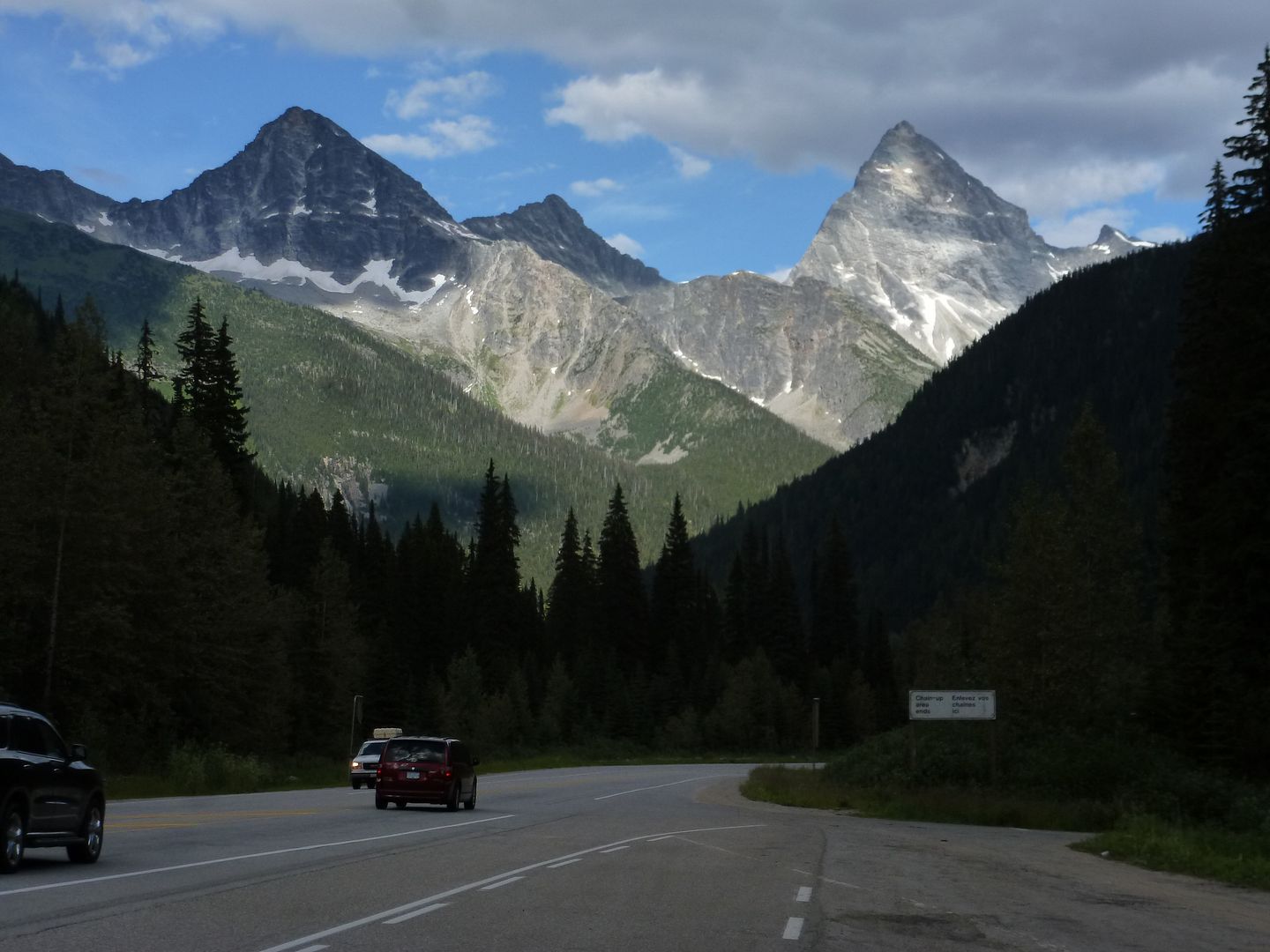 We found a nice campsite in Glacier National Park right off the Trans-Can Highway and went to bed early. Did 200 miles that day.


July 30-Woke up to temps in the 40's (
) and headed up the Trans-Can Hiway to Golden BC. I was carrying a new rear tire and I wanted to mount it up before we started the gravel portion of the GDR. Found a great Kal-Tire shop in Golden that swapped out the tire for me no charge. Here's the place--





I had some last minute supplies to shop for in Golden and Kel was anxious to see Banff, so we split and made plans to rendezvous later that day. Moments later, it started raining and it didn't quit all day. The ride from Golden to Banff is supposed to be the most scenic section on the Trans-Can but we got to see nothing but grey clouds and rain! So . . . no pics of the Canadien Rockies!

Arrived in Banff and couldn't find Kel. Wandered around cold and wet (temps now in the 50's!) but no luck--Banff is big! Anyway, decided to head up to Mt. Norquay which is where the GDR starts--





Then drove over to the famous Banff Springs Resort--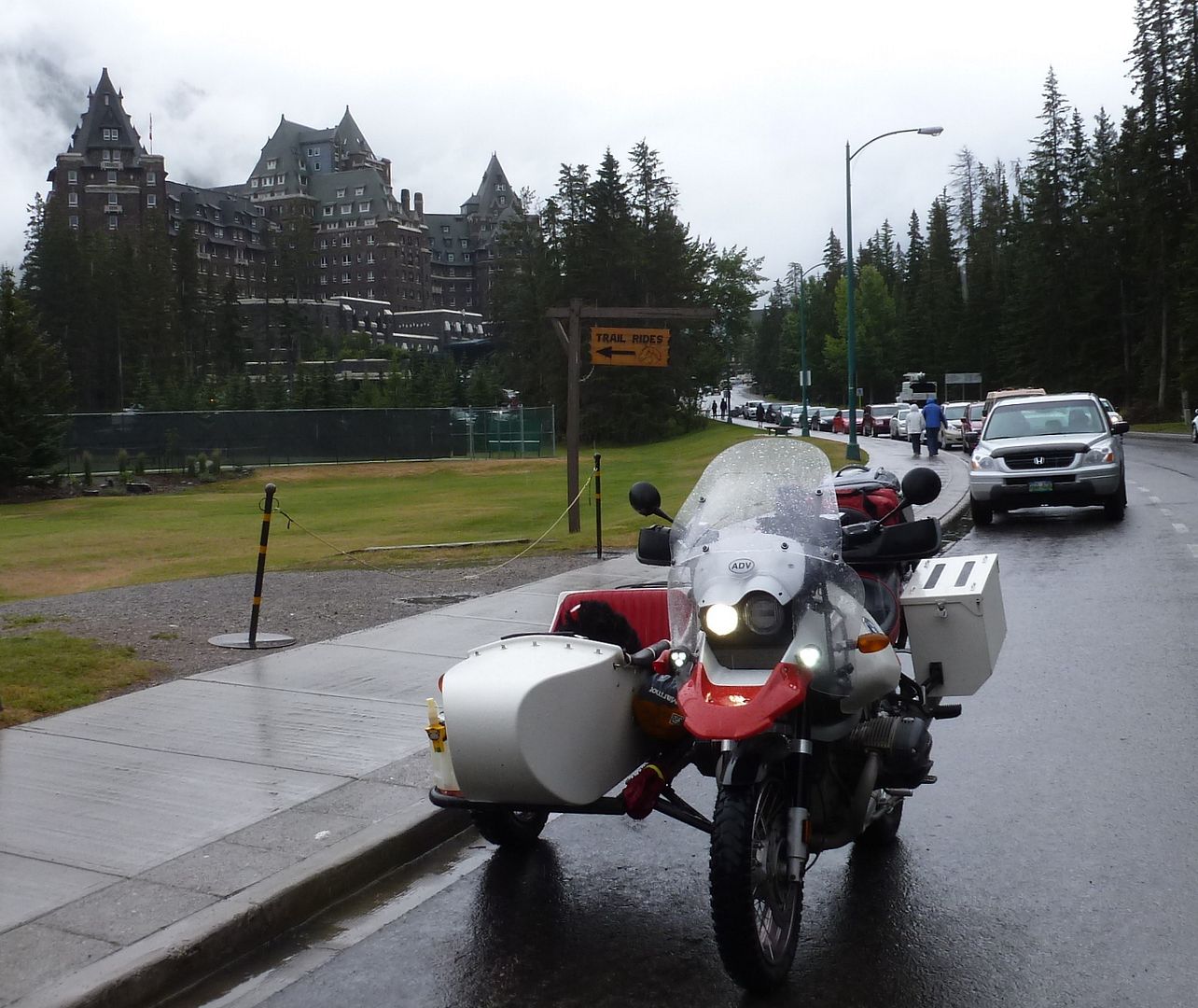 Banff is crowded with tourists and not much fun in the rain (and cold) so I decided to follow the GDR to the town of Canmore and find a motel where I could hole up and reconnect with Kel. Found a really great motorcycle-friendly place called the Rocky Mountain Ski Lodge and got a hot shower.

205 miles this day, all on pavement, including at least 2 hours in Golden on the tire change and three hours in Banff. Here's Kirby making friends at the Lodge--




July 31--Kel had holed up in Banff that night so he rode down to my ski lodge then we headed south on the Spray Trail through the Spray Valley Provincial Park. Was 32 degrees in Canmore that morning but we quickly climbed up through the clouds and into the sunlight where it was warmer and the scenery was fabulous. Finally some gravel! --





This road was so perfectly graded that you could take a Greyhound bus on it. In fact, we actually DID see a Greyhound bus full of Japanese tourists on this stretch of road--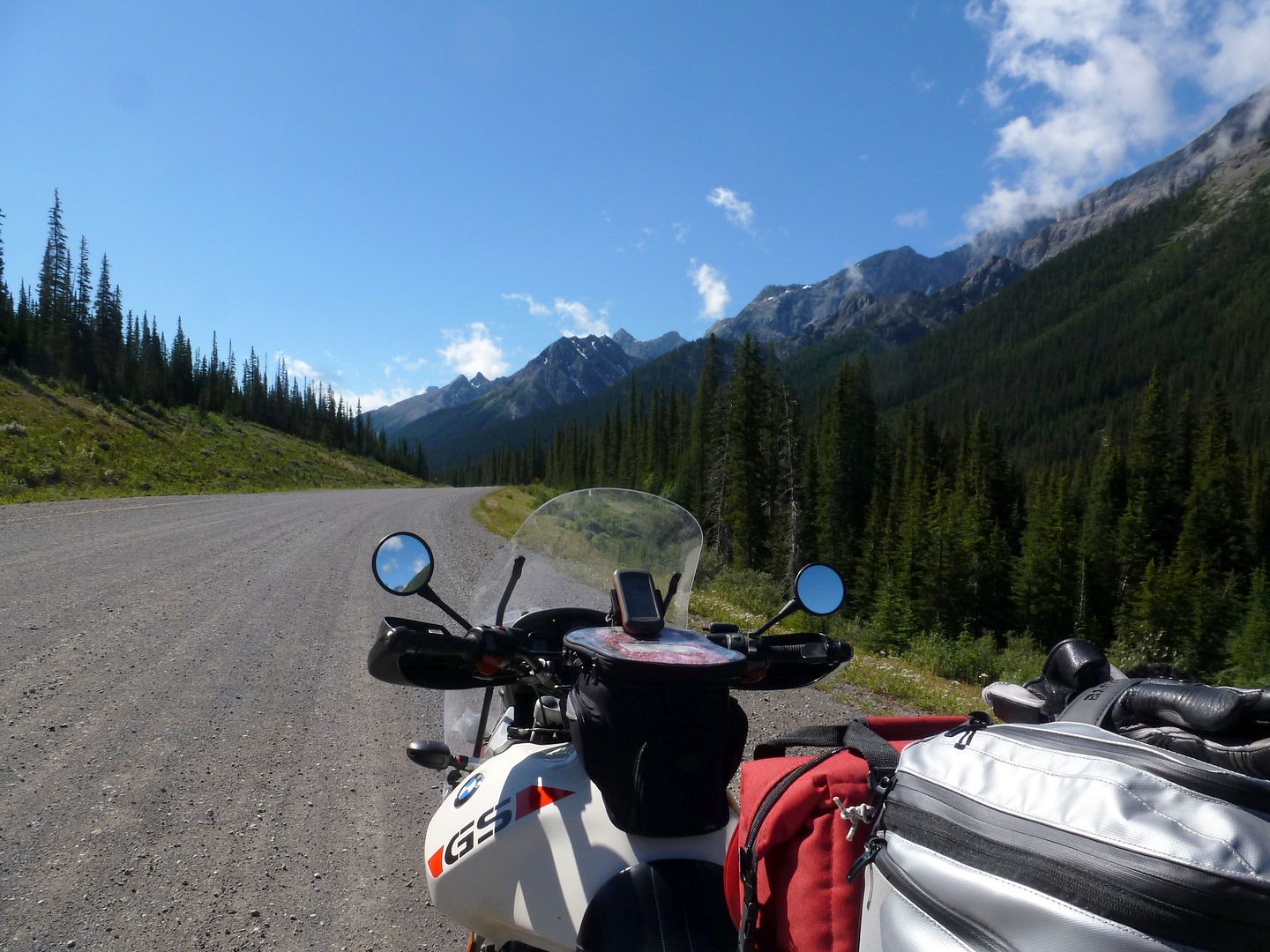 Unfortunately, 45 miles south of Canmore we ran into this--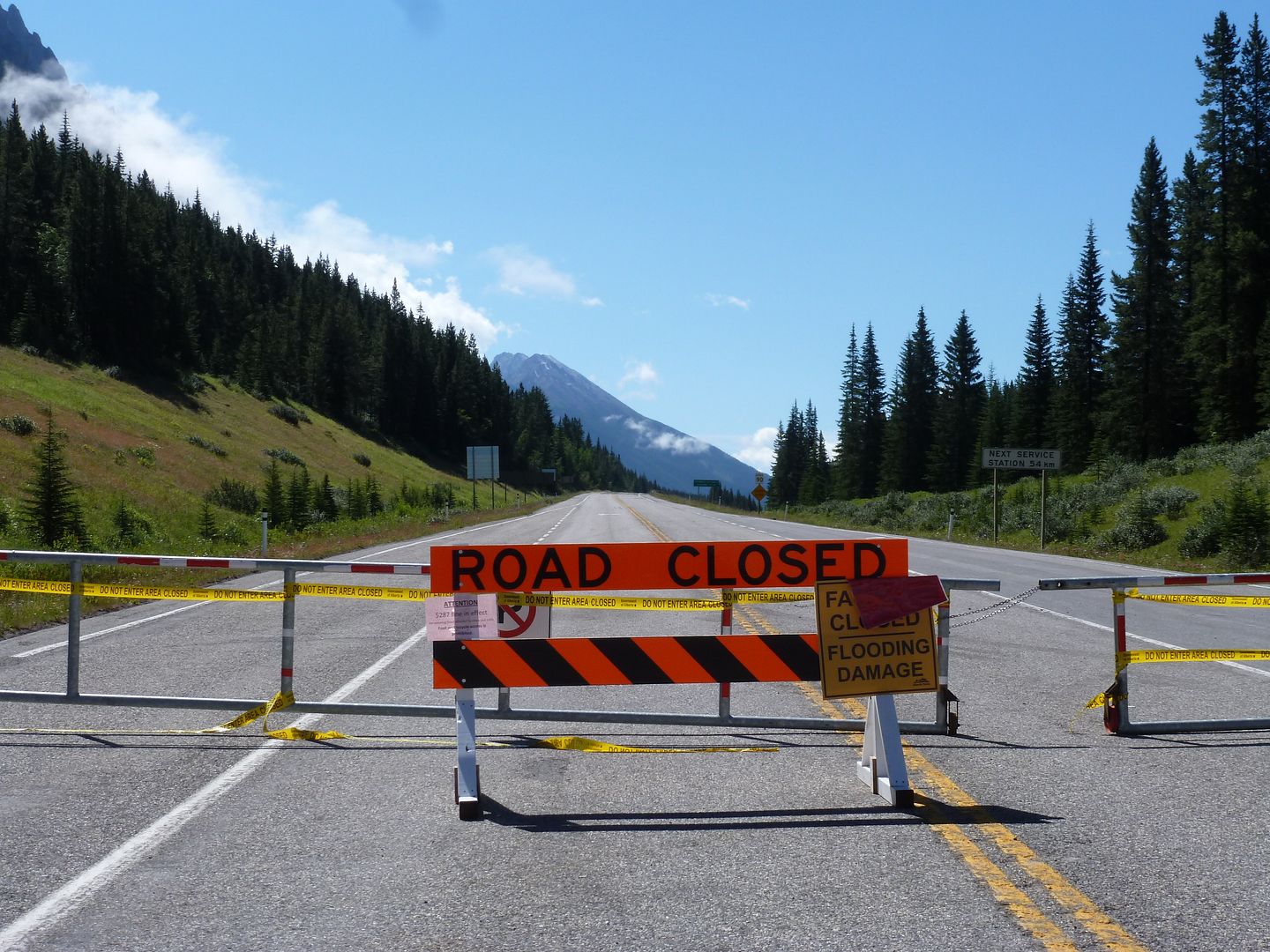 This is the start of the Kananaskis Trail and it was closed due to flood damage. Big disappointment since we were going to follow this trail all the way to Crowsnest Pass. Instead, we were forced to make a U-turn, drive north back to the Trans-Can, take the Trans-Can east to Calgary, then down the Cowboy Trail (Rt.22) to Crowsnest which was a 200-mile detour all on pavement. Boo! And we were out on the plains instead of up in the mountains. We did try several different dirt roads to get us back on the trail south of the flood damage, but they were ALL closed due to the flooding.

We camped at Alberta Lake on Rt. 3 near Crowsnest Pass. 283 miles today.


August 1-- In the morning, Kel and I split up. Kel was going to pick his own way back to his home in Colorado while I stayed on the trail. Started out by going to the historic town of Elkford and found a nice gravel road that went up that way--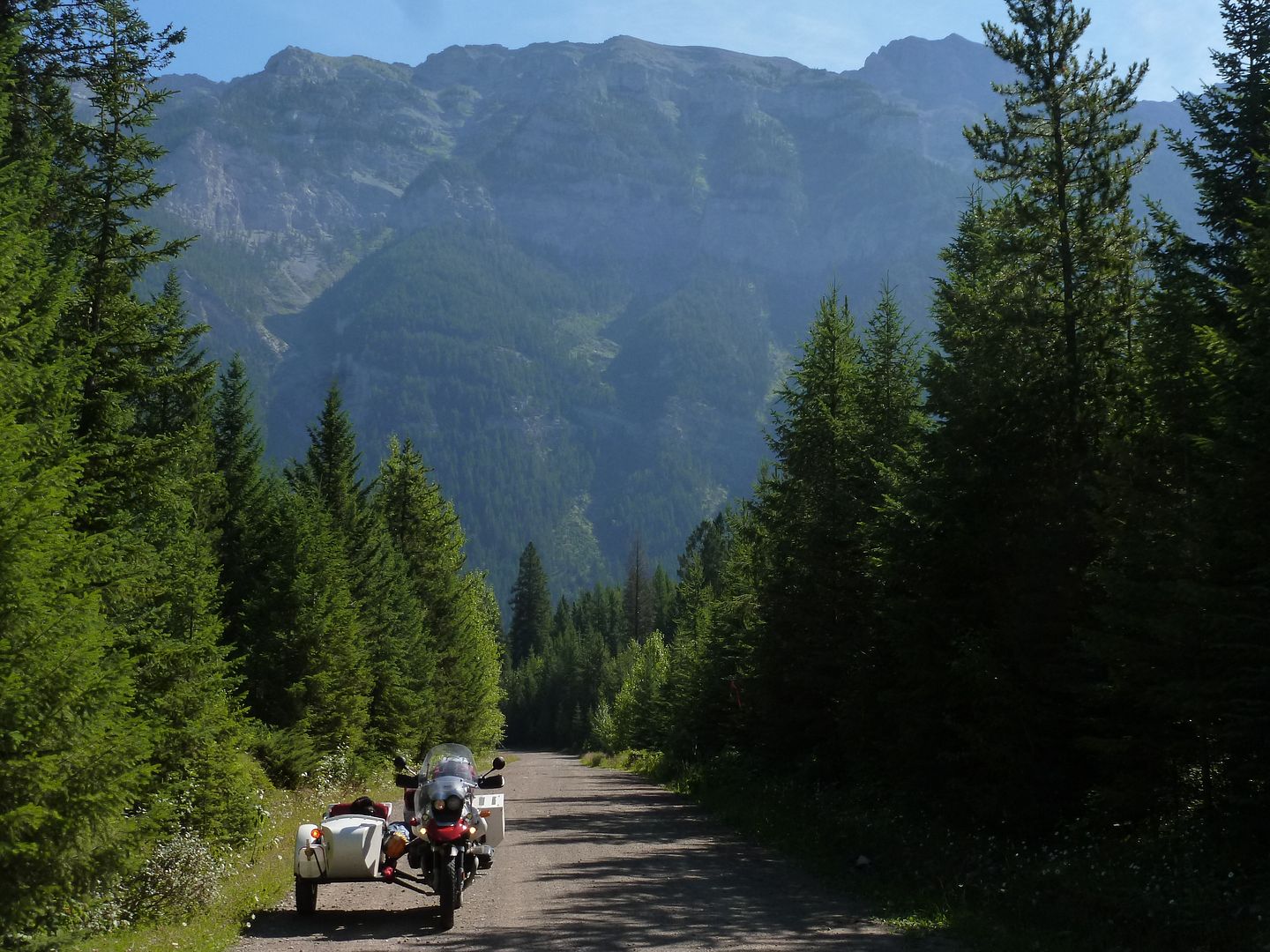 But before I got to Elkford, I hit this slide and had to turn around. Doesn't look like much, but there was no way over or around--





Paved roads to Fernie, then got on the gravel again-Lodgepole River Rd-from there to Elko to Lake Kookanusa where Kirby stopped for a swim--





Crossed the border at Roosville, Montana then south to Eureka on FR3440 (Eureka Airport Road), and stopped in town for groceries. Then back on a gravel road (FR114) up to Bald Pass--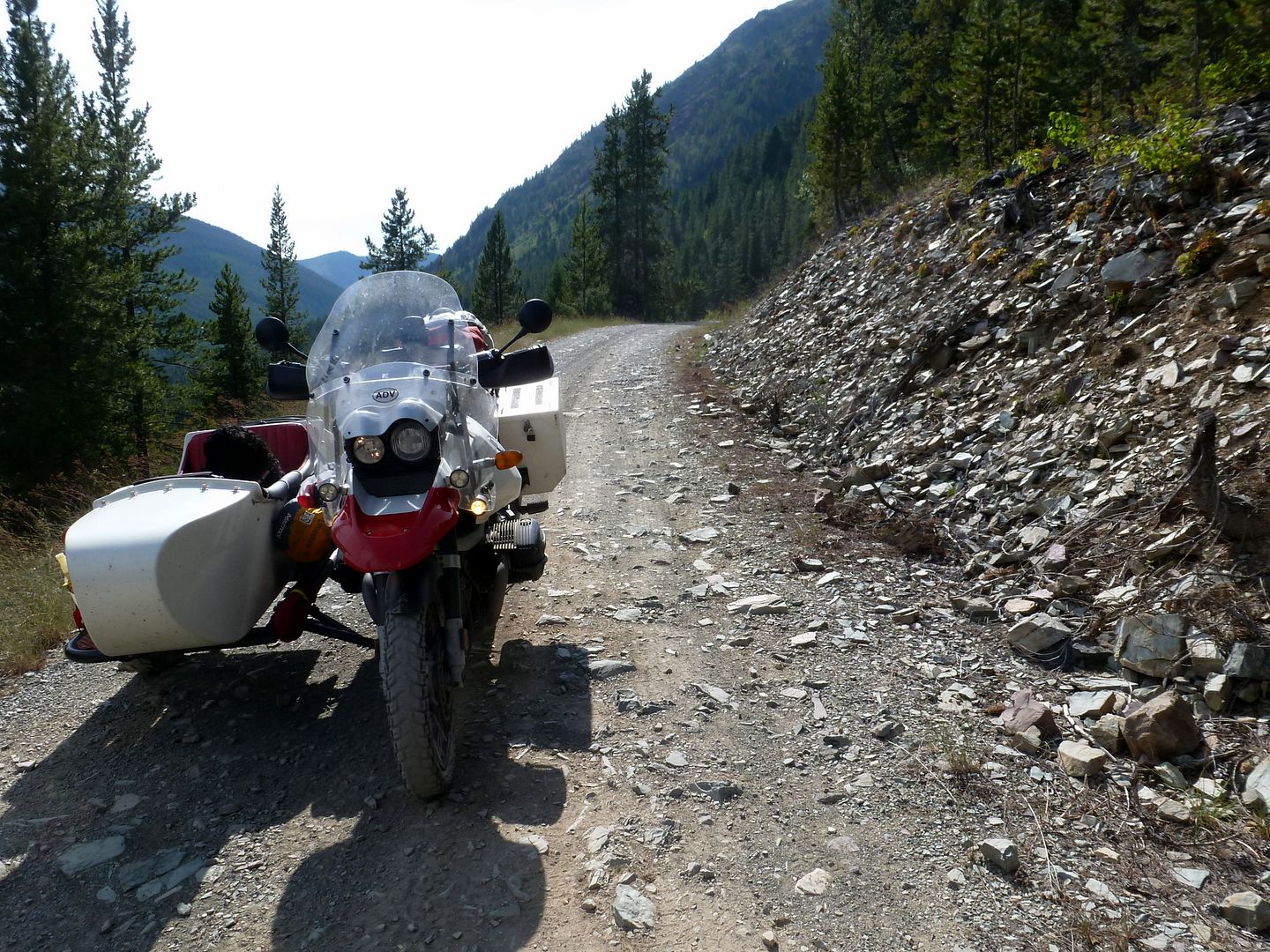 On the other side of the pass, I got my first look at Glacier National Park (the one in Montana)--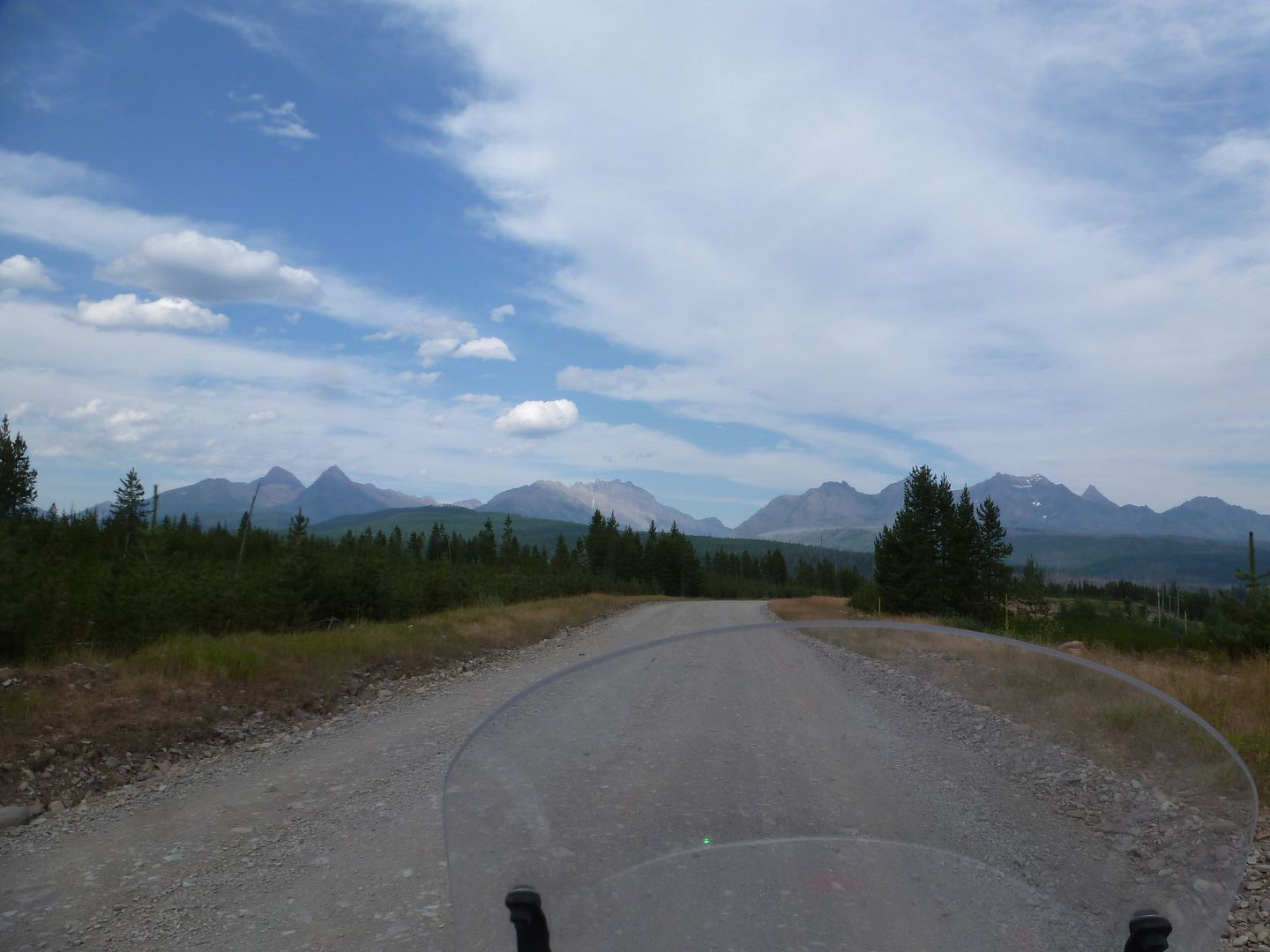 Stopped at the Polebridge Mercantile for one of their famous bear claws (not so great), then took FR115 to Red Meadow where we camped for the night--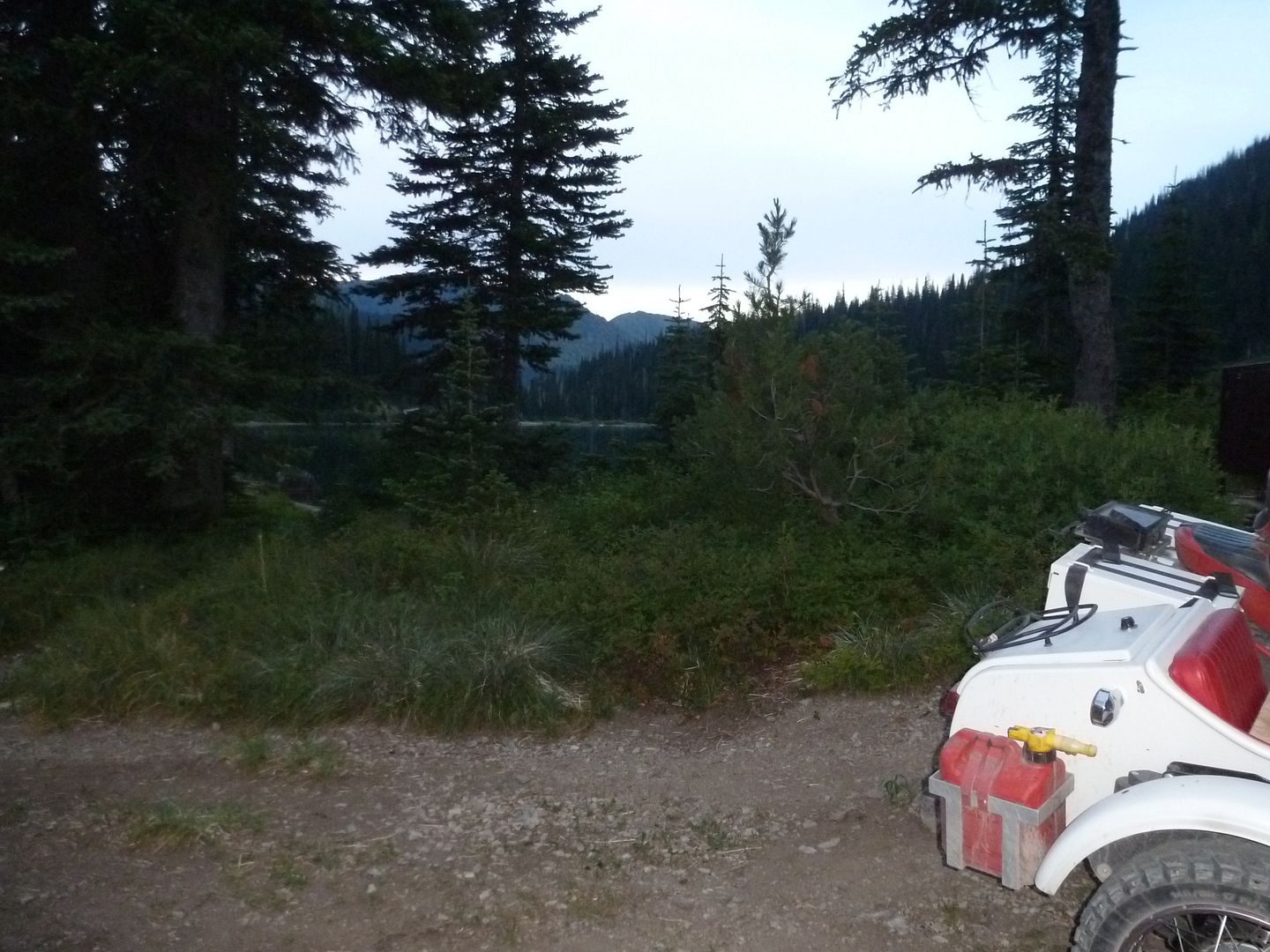 The thing about camping next to a lake in August is that unless you want to feed the entire mosquito population in the vicinity you set up your tent with you riding gear on . . . including gloves . . . including helmet! They were vicious! As soon as I got the poles up Kirby went right to the tent door and asked to be let inside. He stayed in there, free from bugs, while I finished getting the tent up and the sleeping gear unpacked.

As I was doing this, I could see my rear tire was going flat, but I was dammed if I was gonna fix it in the middle of a mosquito banquet, so I got inside the tent, fixed some supper for me and the Kirbs, and set my watch alarm for 5am.

233 miles that day.

Edited by DRONE 9/28/2013 3:06 AM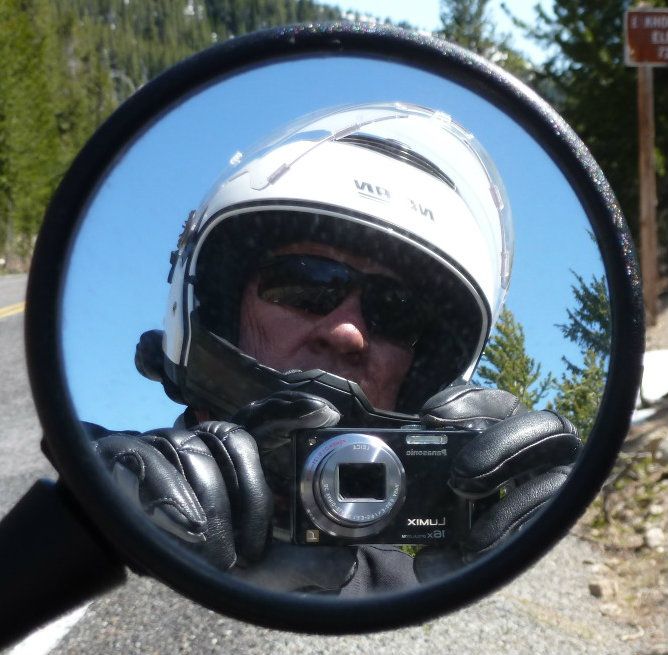 Posts: 283
Location: Tacoma, WA, USA
Aug 2nd--This was actually a good day but for some reason I pretty much forgot to take any pictures. Stupid! Anyway, I did get up at 5am and there were no mosquitoes. Found half of a rusty cotter pin in my rear tire--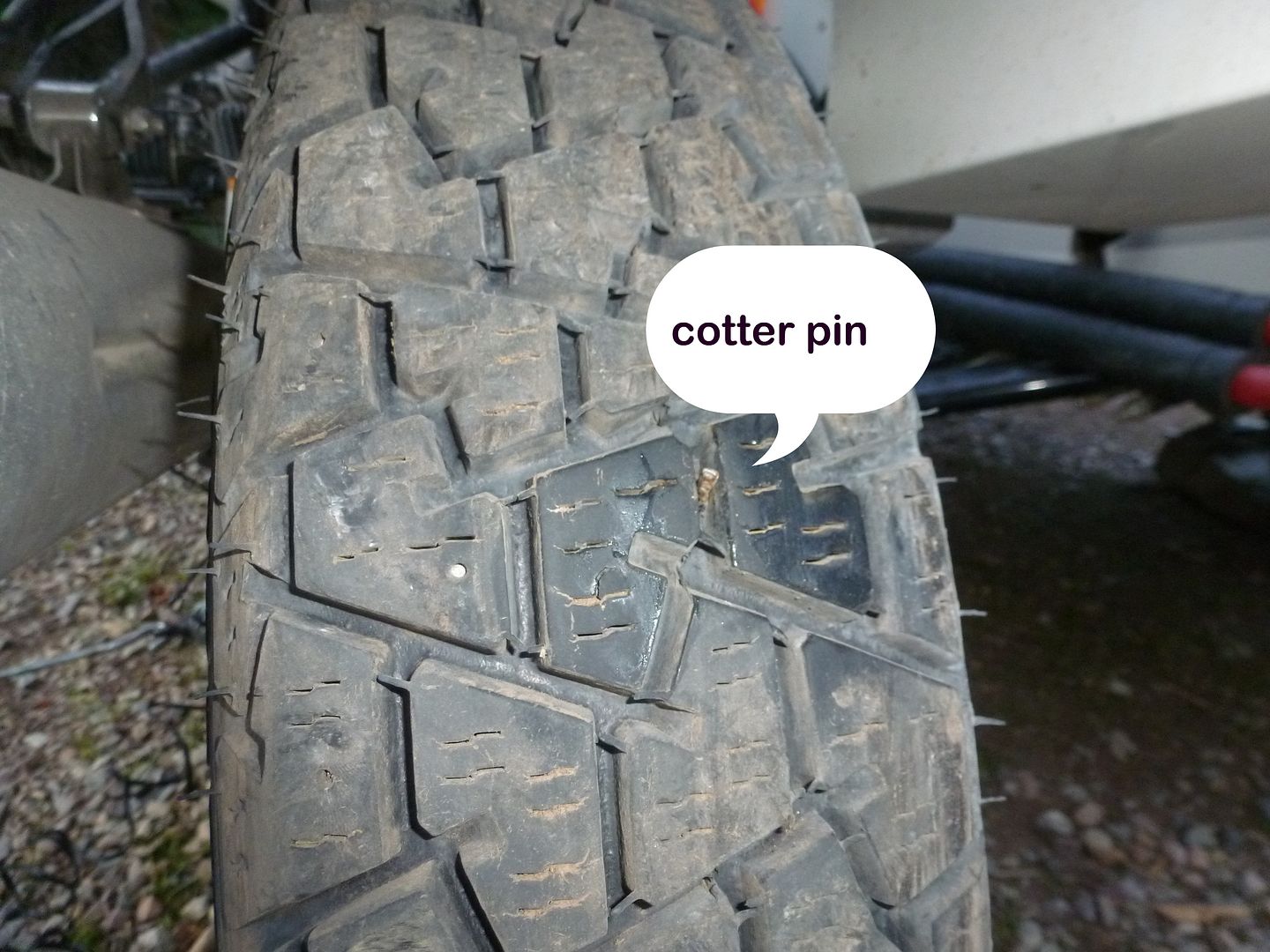 Pretty easy fix (I use gummy worms) and we were packed up and on the road before sunup. Saw my first moose of the trip soon after near Whitefish Lake (no picture), then met up with fellow inmate ChaosinMT (no pic) near Kalispell for a hot shower and a water resupply with some of his great tasting well water. Kinda rainy day with daytime temps in the 50's.

At this point I decided my front wheel was ready to be re-tired and I stopped in Kalispell for a TKC80 from Penco Motorsports. Also bought a new bulb for my headlight and noticed that I'd blown the seals on the sidecar shock. Got on the phone to Jay and had him send a new shock to a friend of mine who was planning to meet up with me in a few days.

Finally got on the trail again around 2pm, in the rain, and drove south on a variety of gravel roads west of Swan Lake and the Swan River Valley (no pics). By 6pm I was tired and wet and decided to go find a room somewhere. But then a funny thing happened. In the parking lot of the motel, the sun came out, and the roads started to steam, and I decided that this was the best weather I'd seen all day. So I got back on the trail and rode another 2 hours on some beautiful gravel roads to Seeley Lake in the late day golden daylight. Those two hours were special. NO PICS!!!!

Despite the flat tire at Red Meadow, and the stop in Kalispell for a shower and a new tire, still managed to do 224 miles that day. Also, ta-ta-DAH, got 270 miles from one tank of gas--it took 7.7 gallons when I filled it (35mpg). My rig definitely gets good mileage when I keep the speed down to 30-35 mph which is my typical speed on gravel.


Aug 3--Crossed the Continental Divide four times this day and did 243 miles. Not bad! Left Seeley Lake around 9am and headed to Ovando on a very pretty gravel road called the Cottonwood Lakes Road. Ovando is very small but has this cool little cafe--





Continued along the GDR to the Huckleberry Pass Road but found it to be closed. Spoke with a local rancher and he suggested an alternate route that worked out great--Cooper Lake Rd back to Rt. 200 then over the Herrin Lake Rd to Fields Gulch where I picked up the GDR again.

So far on the trip the only strenuous gravel I'd done was over Bald Pass east of Eureka. I say "strenuous" because it wasn't really technically challenging--more like just a lot of work. Anyway, from Fields Gulch on up to the Granite Butte Lookout the road became strenuous once again--





This road was too rugged for 3rd gear. It was mostly 2nd gear and there was also some 1st gear sections. From atop the lookout we had some nice 360° views of the area and tremendous winds! I've done a bit of sailing so I can guesstimate wind speeds pretty well and I'd say that the wind up there was a steady 35-40mph with gusts over 50. The lookout is NOT tall, but still needs heavy wire guylines to keep it grounded. I could feel the whole thing shake with every wind blast--






We crossed the Continental Divide on pavement up near Banff, and again at Crowsnest Pass, but my first American crossing was right around there somewhere so I memorialized it with a selfie--





I thought the toughest part of the day's ride was over, but I was wrong. A lot of 1st gear and 2nd gear work along this stretch. I enjoyed it--it was fun--pretty much on the pegs the whole way--but slow going--





Selfie at Divide crossing #2 on Lost Horse Road--





Priest Pass and selfie because this was crossing #3--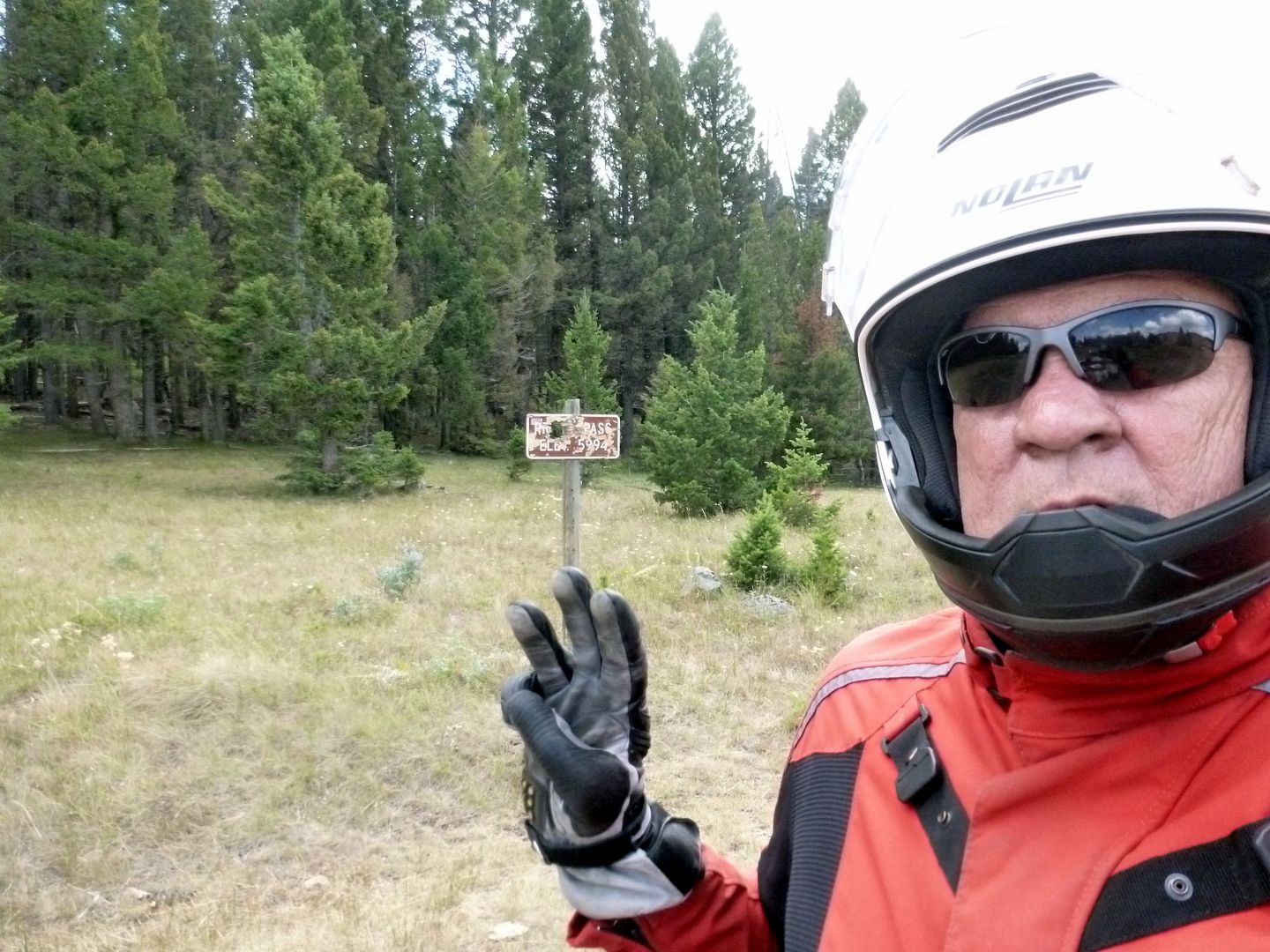 By the way, lots of free range cattle on the road. When you see them up close, you realize why they survive so well in the backcountry despite predators like wolves and cougars. It's because they're so blasted BIG! A 6-month old black angus calf might weigh as much as 500 lbs and a 2 year old heifer can be around 1200 lbs. This is not easy prey for a 200 lb cougar. Anyway, I found the best strategy for dealing with the stubborn ones was to approach them steadily in 1st gear but to steer towards their rump. If they were facing me, I'd stop and lurch and blast the horn until they turned, then creep towards their rump. Here is a pic of three calfs that were very stubborn and it took me nearly 5 minutes to get all three of them to give way and turn tail--





Once over Priest Pass the road improves and it was an easy descent to Rt. 12 where the GDR takes you into Helena. But it was only mid-afternoon and I had no need to see Helena so I turned south on the Rimini Road (sorta rhymes with "Gemini&quot
and then took a rough turn-off to the Chessman Reservoir. I started to regret this decision when I found myself on a very steep and narrow rocky trail with no place to turn around and getting wheelspin in 1st gear standing on the pegs. Then I ran into this interesting-looking gent out rambling around on foot--




First of all, he couldn't believe I'd made it up the trail this far (of course, he knew nothing about GS hacks and their capabilities), but he said that if I'd made it this far I should keep going just a little ways farther to the top of the hill where the road flattens out and gets better. He was right--made it to the top in one piece and the road around the reservoir was doable in 2nd gear.

Shortly I rejoined the GDR and rode some more good gravel roads to Boulder MT. Then did the last 30 miles to Butte on the interstate. Managed to cross for a 4th time--





Found a moto-friendly motel (the Capri Motel) in Old Butte, got some dinner at the Hennessy Market, and collapsed into bed at 9pm. This was a great day!


Aug 4--I woke up feeling still pretty whupped by the workout I'd had the day before and decided to take a rest day. Of course, wouldn't you know the weather would be fantastic--clearly the nicest day since I'd left Tacoma. But I'd made my decision and in retrospect it was a good one. I was pooped. Spent the day lolling around, gave Kirby a bath then we went for a long walk, did my laundry, took care of some maintenance items on the rig, and motored around historic Butte for a while.

Butte has a long and proud history of mining. Mostly copper. In the early part of the 20th century, one quarter of the world's copper supply (yes--the world!) came from Butte mines. And the mines are actually in Butte--not like 20 miles away but actually in the city limits. There is only one mine still operating ("The Pit&quot
which more or less defines the eastern edge of the city.

Here are a few pics from in and around Butte--


(Wedding reception happening at this mine!)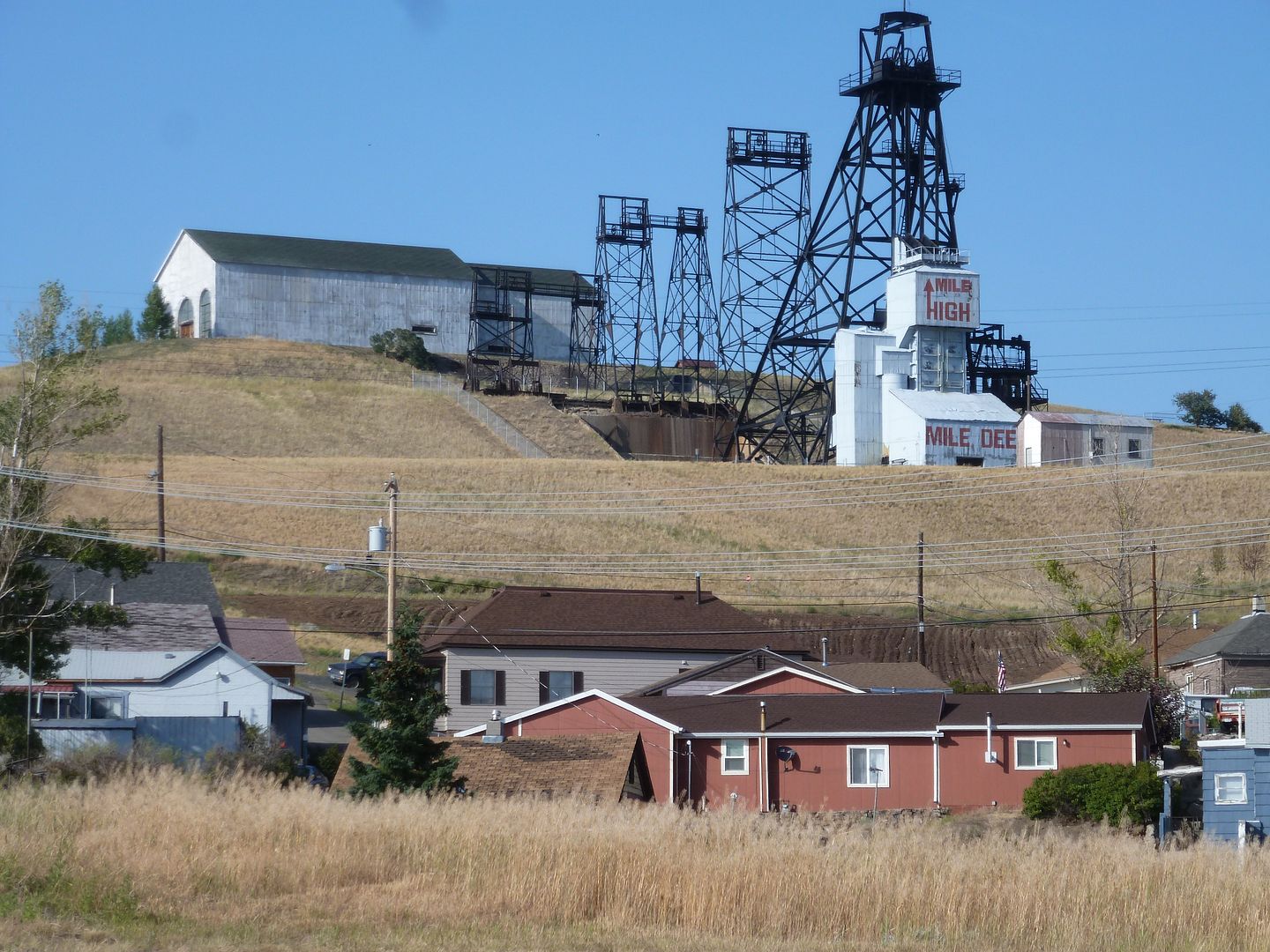 ("The Pit&quot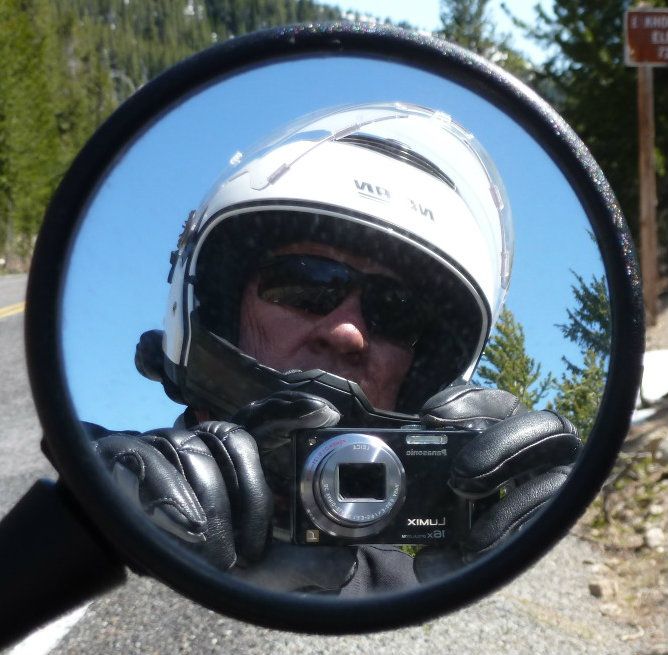 Posts: 283
Location: Tacoma, WA, USA
Aug 5--We rolled out of the Capri Motel parking lot a 6:20am, 45° and clear, and headed down Highland Road towards the town of Divide. What a special morning that was! Riding before sun up (sunrise came at about 7am) on a great road through patches of ground fog, crossing the Divide (#5), then emerging out of the forest and into the first sagebrush field we'd seen--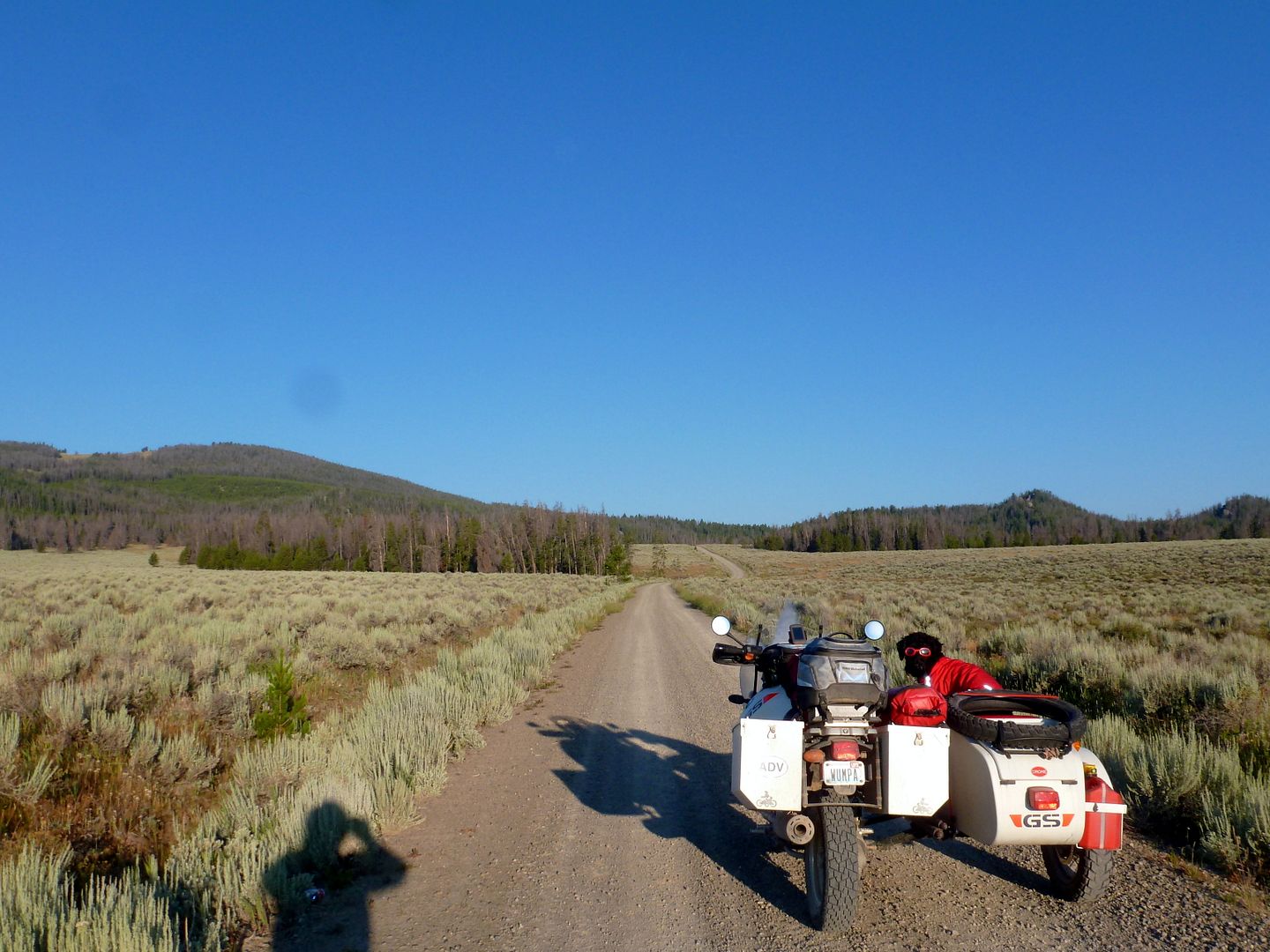 From Divide to Wise River the GDR goes over Mt Fleecer. Tough on a mountain bike, dangerous on a motorcycle, ill-advised on a sidecar rig. So here is my picture of the Mt. Fleecer section of the ride--




Doesn't look too scary from here!



We stopped somewhere south of Wise River for breakfast that I'd bought the day before--





Mixed paved and gravel roads south through the Grasshopper Valley. Saw our first car of the day around 9:20am or 3 hours after leaving Butte! Rode on to the small community of Polaris, still a beautiful scenic road--





Where the Polaris Road tee's into Rt. 278 I ran into my first fellow rider of the GDR. This is Richard from Yreka--




Seventy-nine years old and doing the GDR as a solo rider on his KLR! He bought the KLR just for this ride because he didn't think that the 1200GS that he rode to Alaska last year was the right bike for this ride! Most of you guys can only wish you were half as tough as this guy. Cool dude.

Next stop was the Bannock Ghost Town. I was really looking forward to Bannock but when I got to the turn off--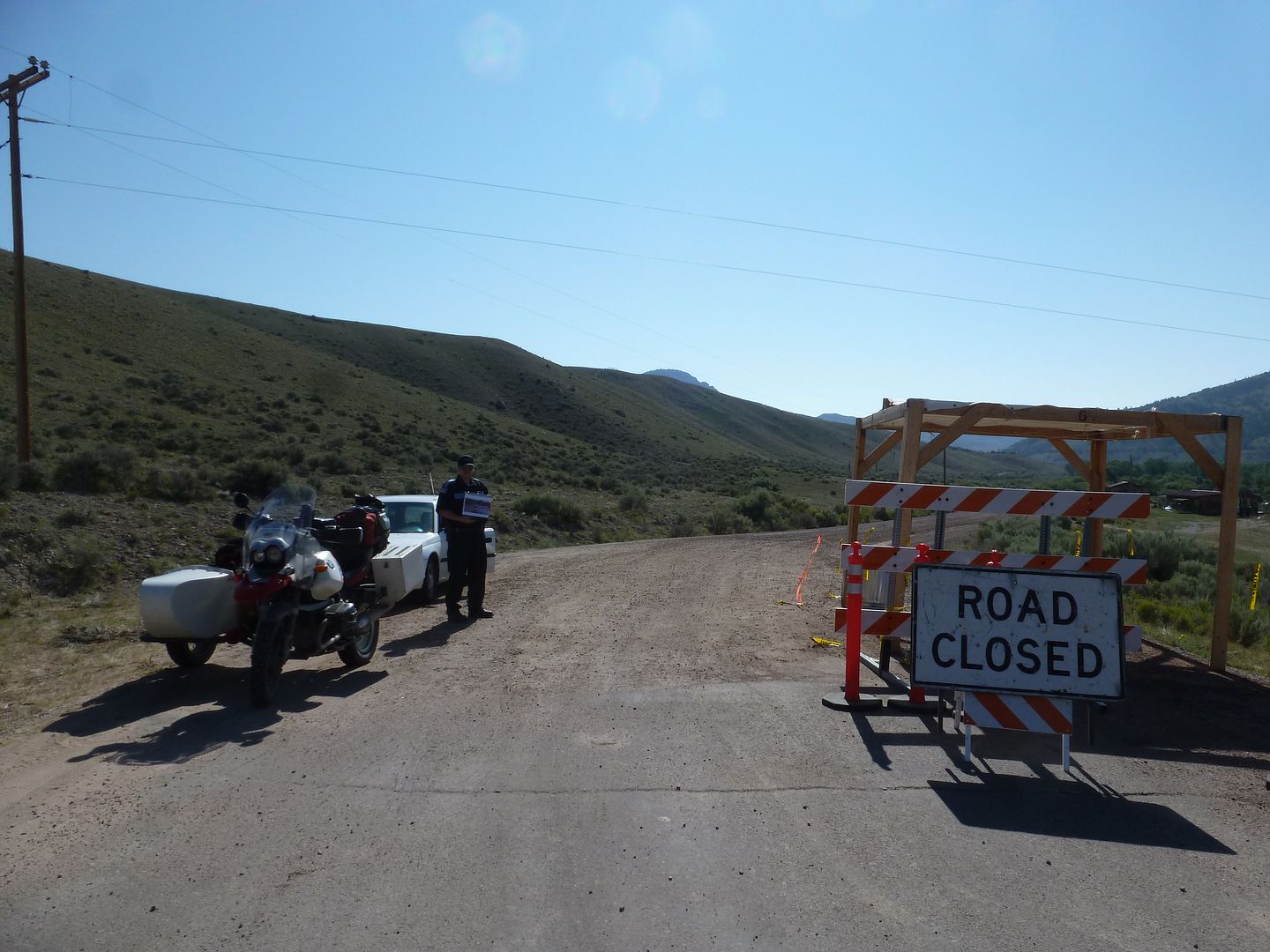 The state hired a private security guy to keep people out and to show us instead the pictures of the flood that had deluged Bannock only two weeks before--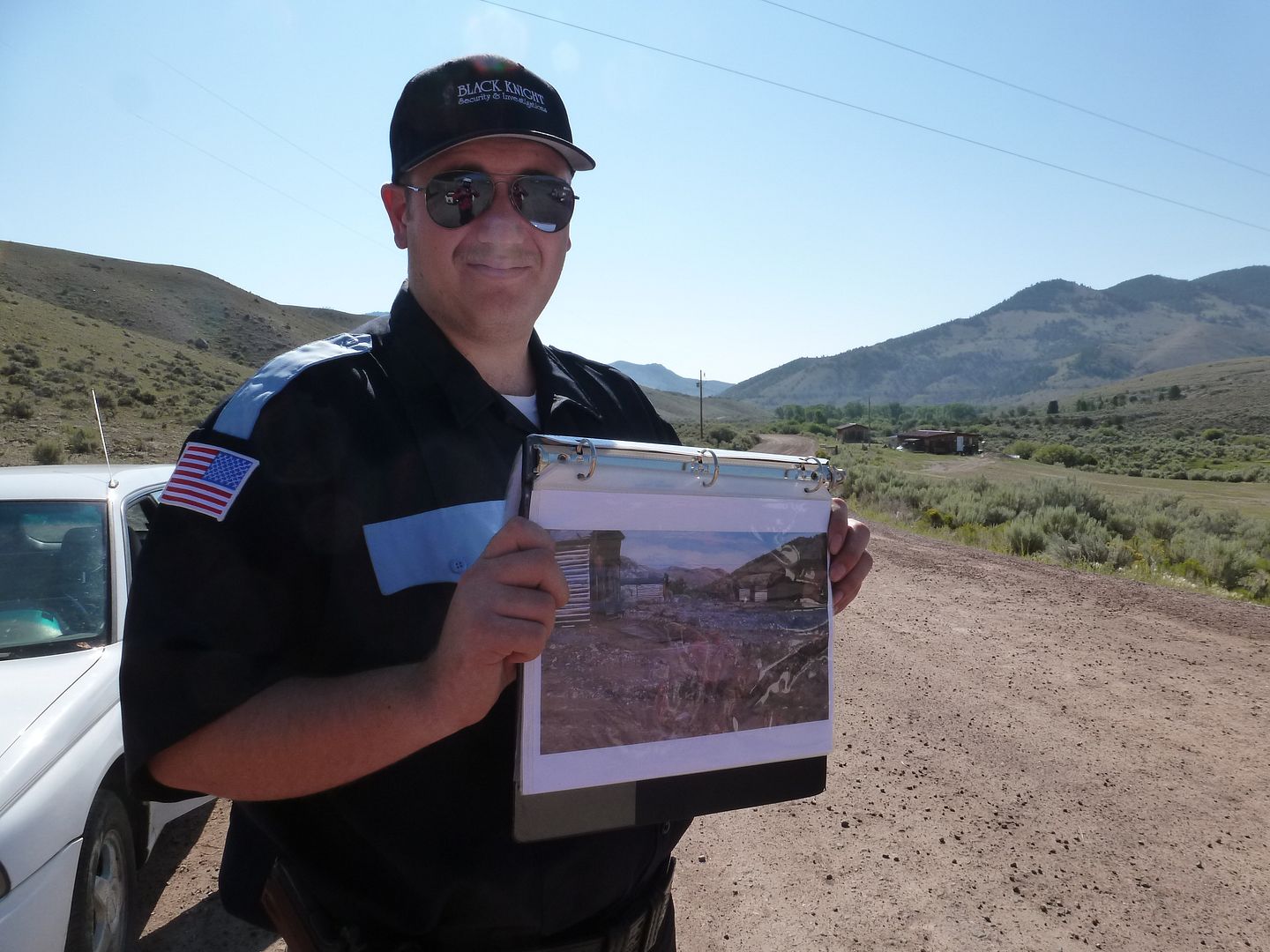 Pretty boring job so I stopped and chatted with him awhile before pushing off south towards the Medicine Creek Valley--






Kirby saw his first pronghorns along this section. He got pretty excited--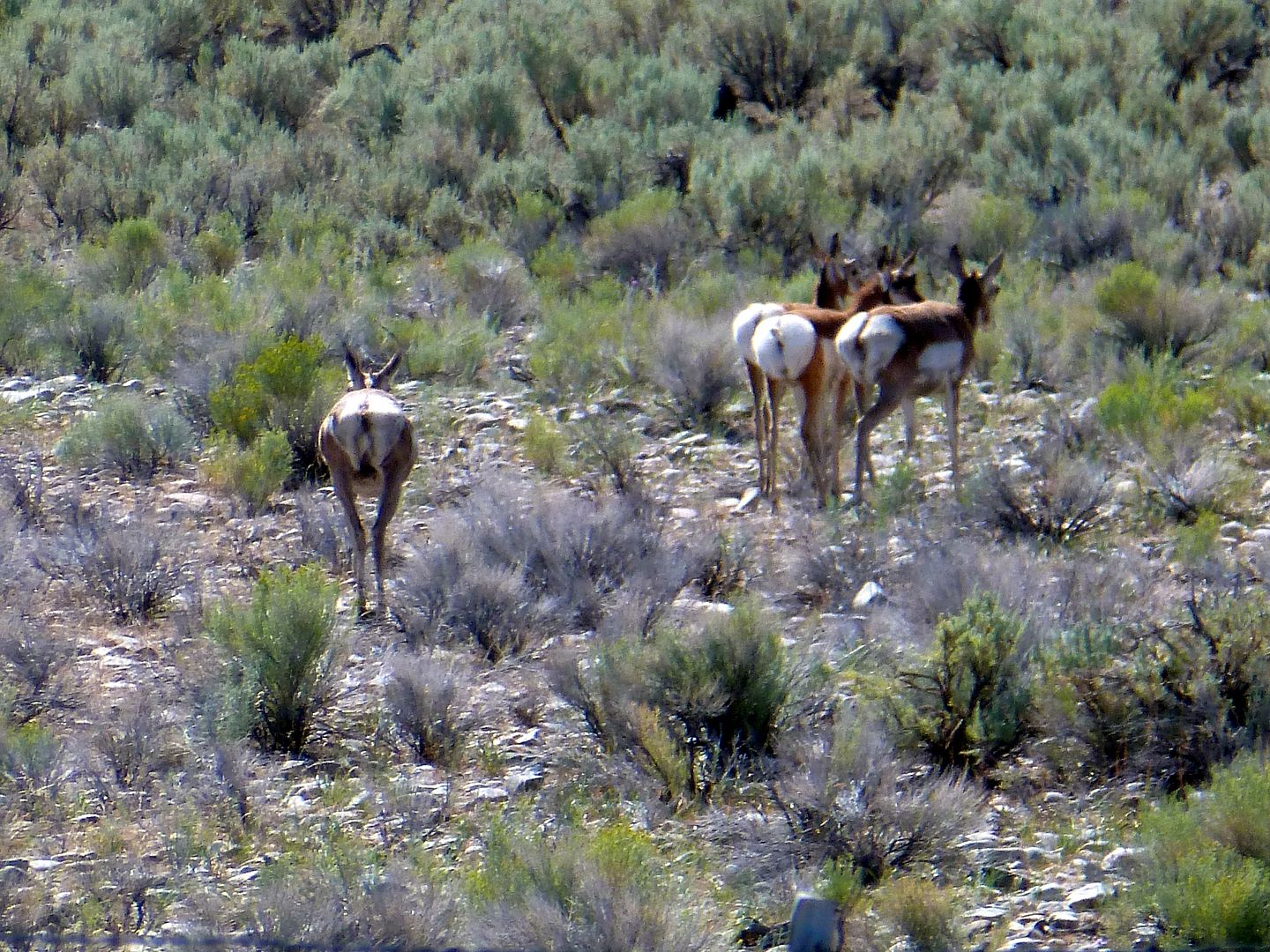 Typically, I only got a pic of them walking away. Very hard to get a pic of a pronghorn coming towards you! (never happens)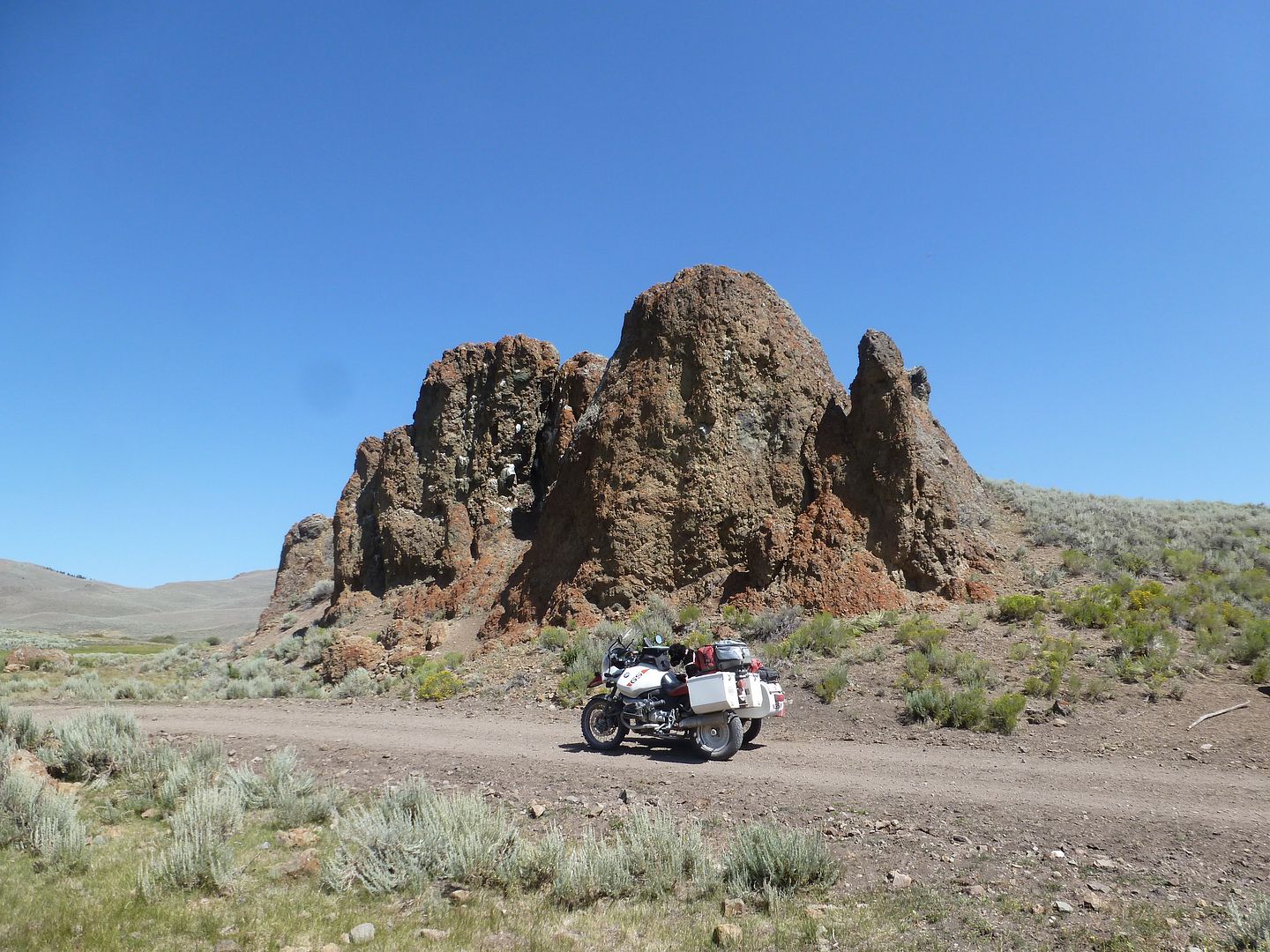 Medicine Creek dumps into Big Sheep Creek and the GDR follows this drainage for quite a ways. Saw my first non-coastal Bald Eagle here (we have lots of eagles around Tacoma)--





Eventually, Big Sheep Creek dumps you out onto the frontage road next to I-15 and I got gas at this cafe--




Get it? It's a cafe!


And saw this inviting establishment--





Rode on into the little town of Lima and as I started to head east out of town my electric tilt mechanism stopped working. I turned around and found a interstate rest stop that was the perfect place to do some wrenching--



This guy, Mr. Root from Watkins Glen NY, stopped to help, and he really was a big help. Really. Good guy--





Lost quite a bit of time with this breakdown but eventually around 6pm got back on the GDR headed east toward the Lima Reservoir over rolling hills of sage--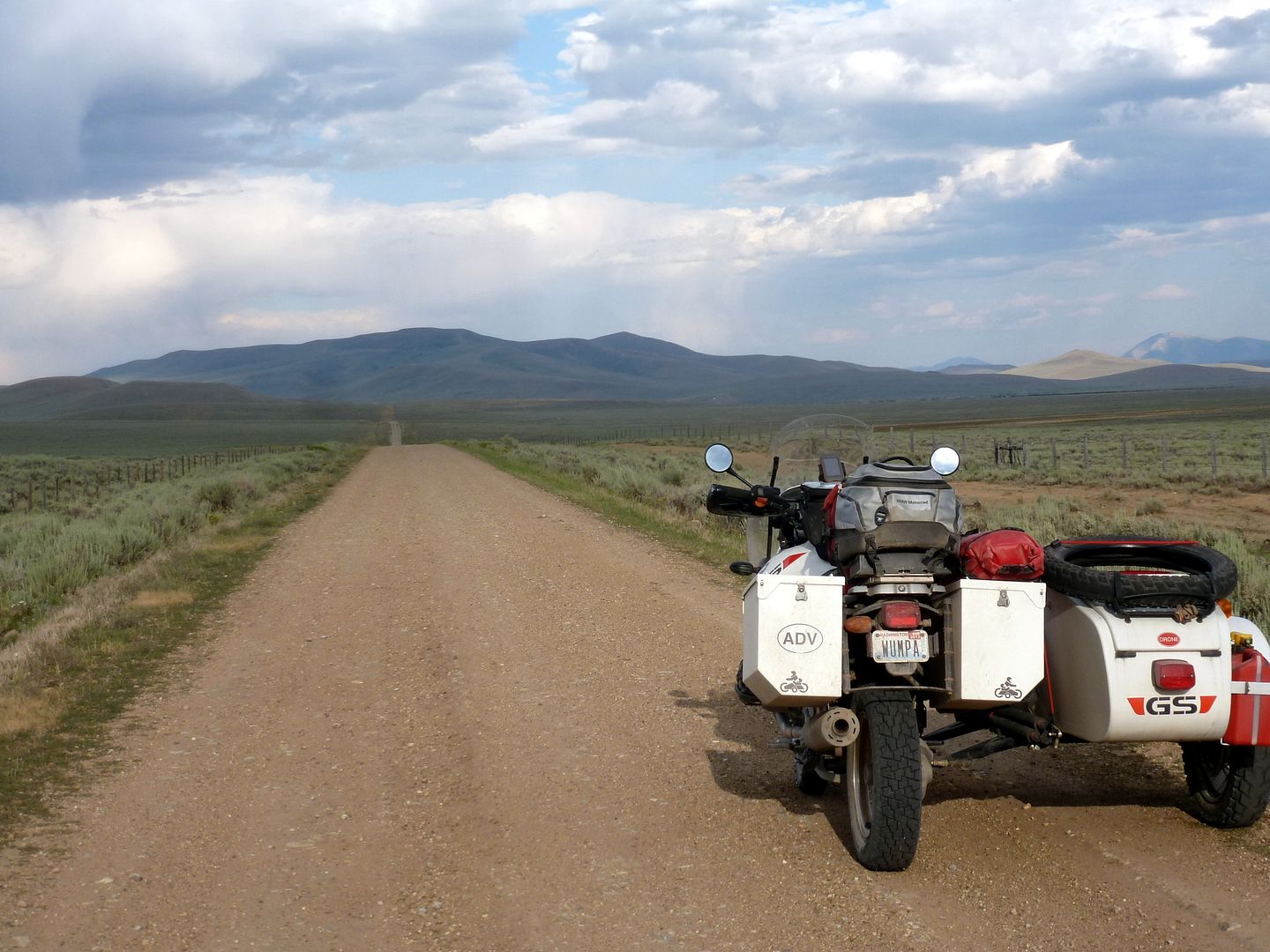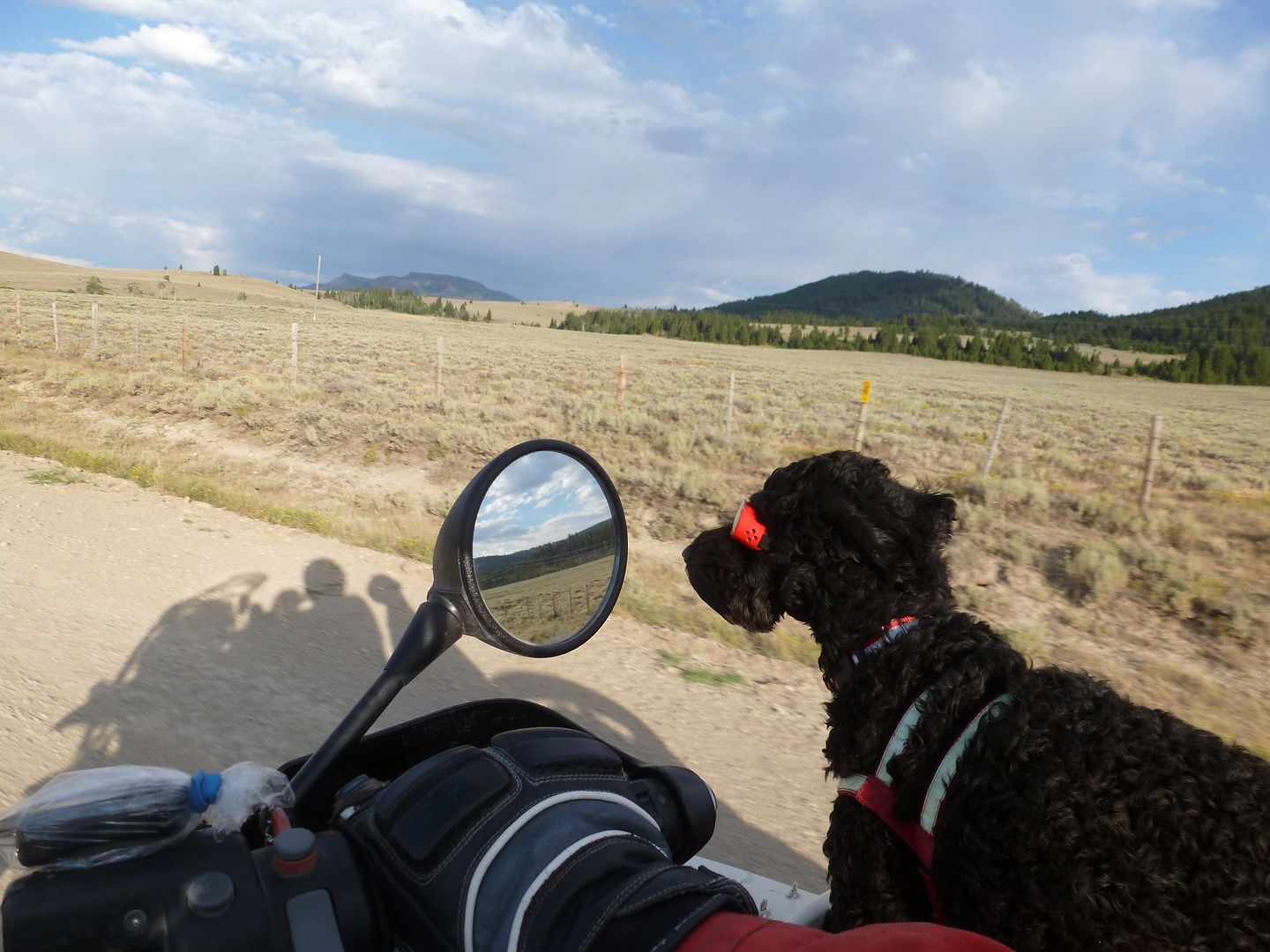 As the sun got low in the sky, we pushed hard to get to a campground in the Red Rocks Lake Wildlife Refuge. Cool pic of the setting sun lighting up our dust--


Our dust in the distance--

The lake at sunset. We had just arrived--

Here's our camp--



Zipped up the tent at 10pm. 272 mile day even with the breakdown.
Edited by DRONE 9/2/2013 1:23 AM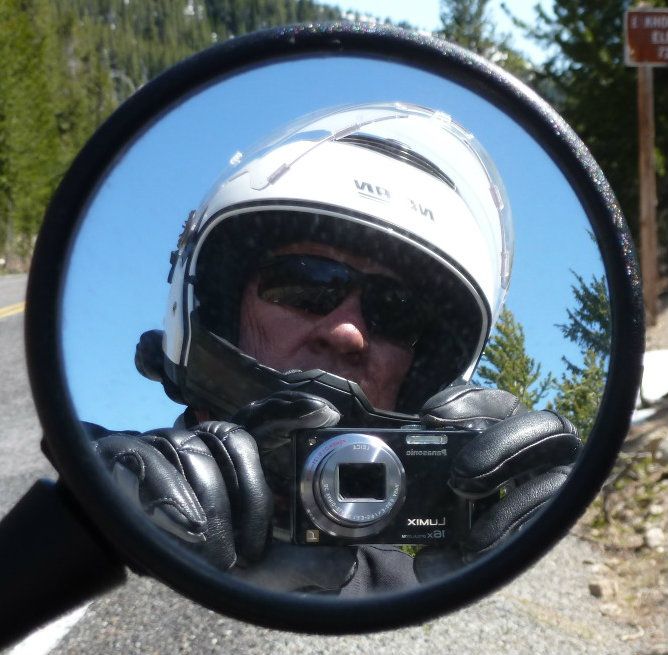 Posts: 283
Location: Tacoma, WA, USA
Aug 6--The campsite looked a little brighter in the morning--




This wildlife refuge has one of the world's largest populations of trumpeter swans and they were at it all night. Trumpeting I mean. Earplugs came in handy. Also spoke with one of the Conservation Rangers who told me that a fellow lost an arm in a grizzly attack three weeks earlier about 15 miles south of my campsite. Kinda glad I followed proper bear country protocol that night and stored all my food and trash in the campground's bear lock up.

Rolled out at 8am and headed towards Yellowstone National Park. Saw my first sign mentioning Yellowstone--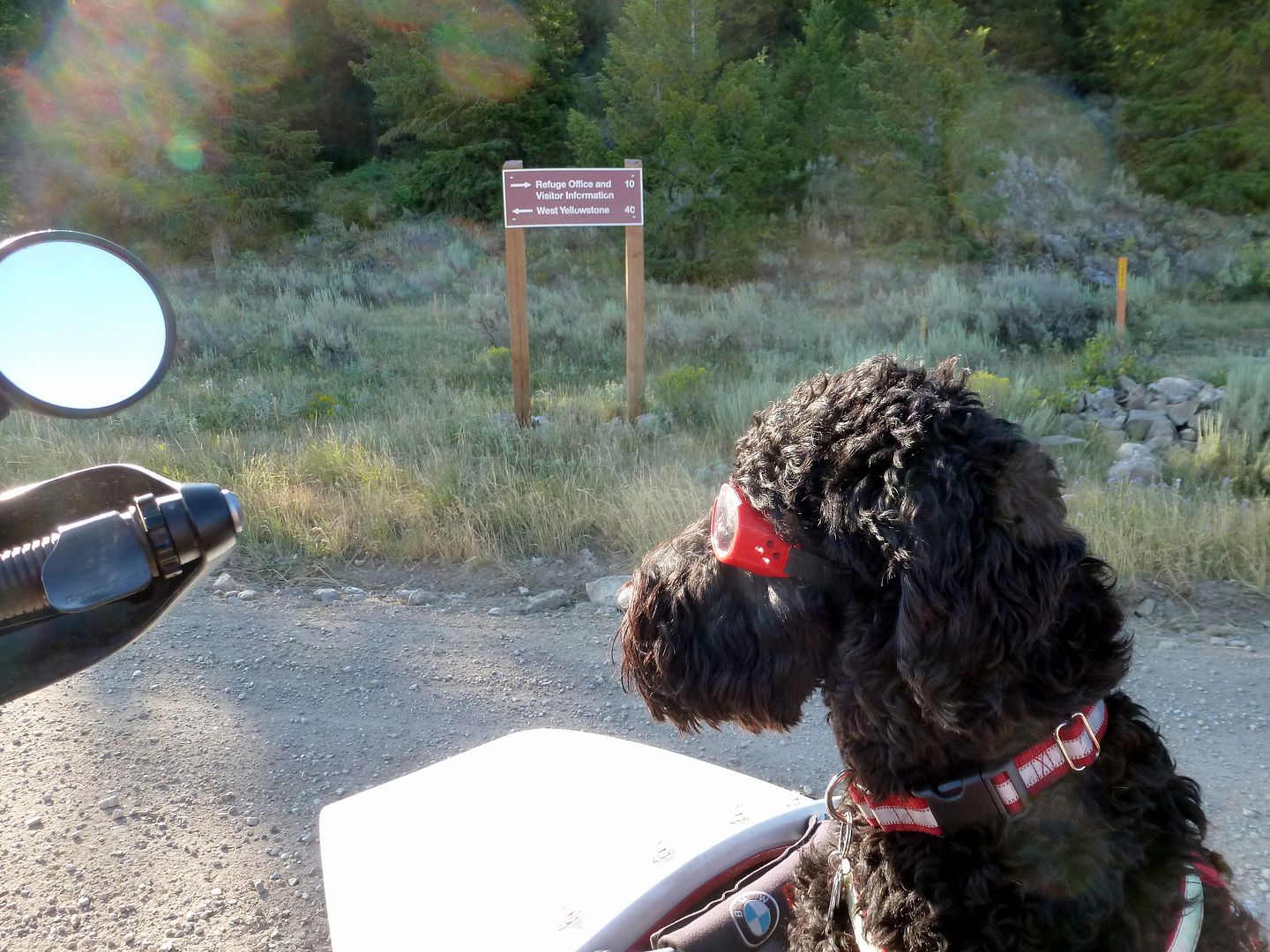 Noticed that there was still some snow around here--



Stopped and ate breakfast here at Red Rock Pass (Divide crossing #6) which also marks the border between Montana and Idaho--





Then rode to Henry's Lake and Big Springs, Idaho--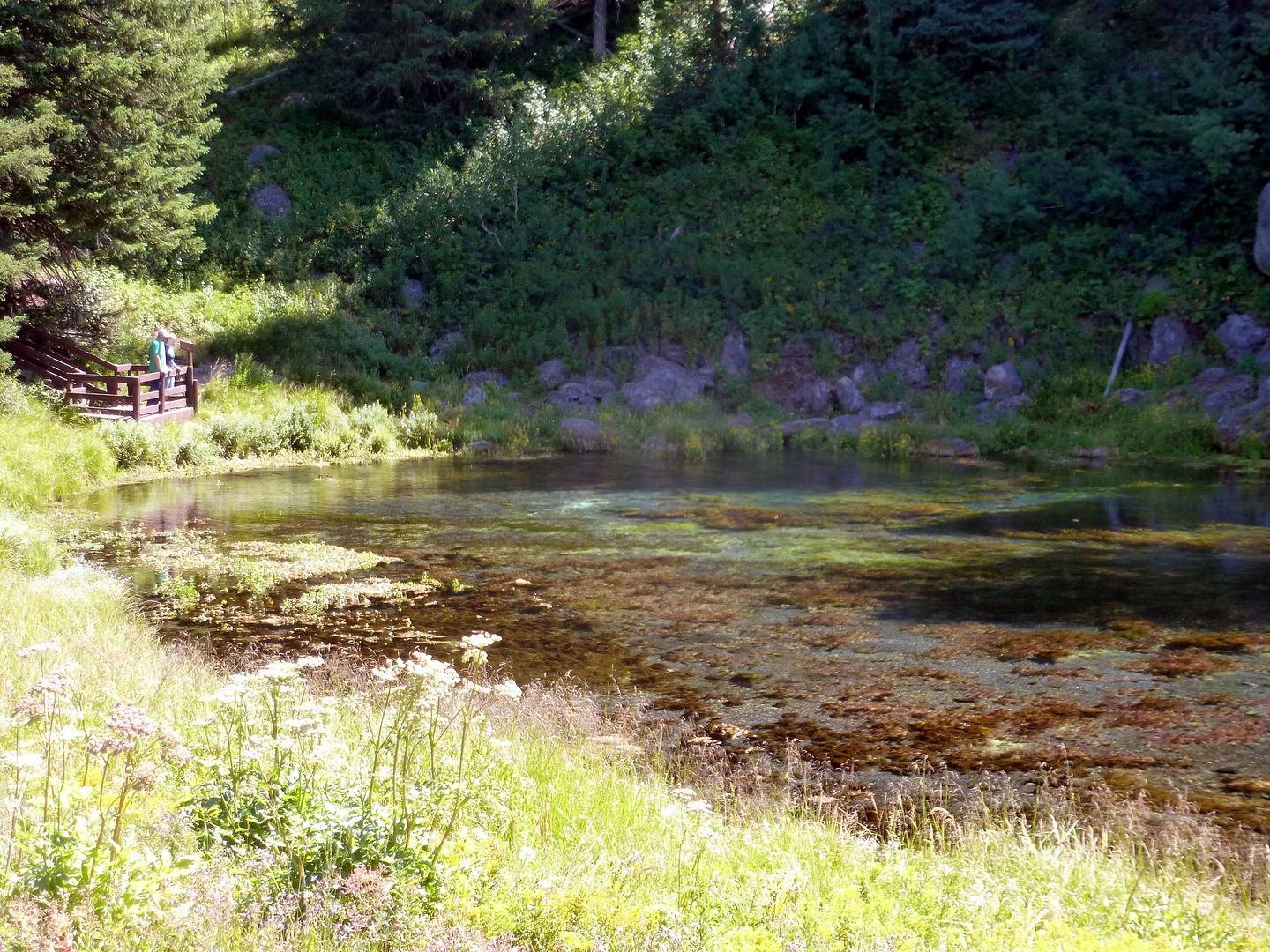 Big Springs is really something to see. Every day 120 Million gallons of groundwater just welling up in the middle of nowhere--it's the source of the Henry's Fork which is a major river in this area. Here's a pic of the Henry's Fork only a few miles from Big Springs where of course Kirby had to go swimming--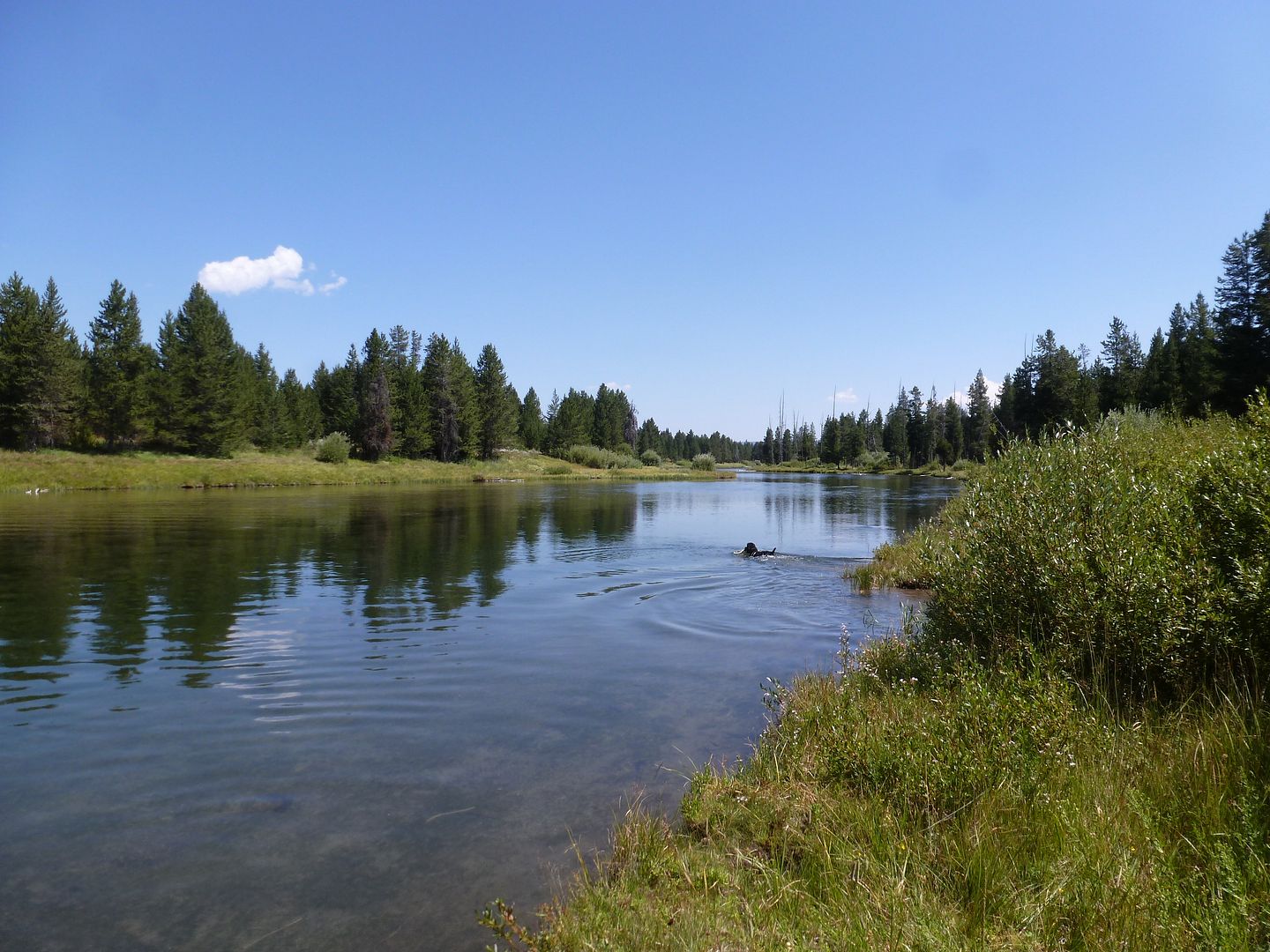 Next stop was a little touristy, but I wanted to see Mesa Falls--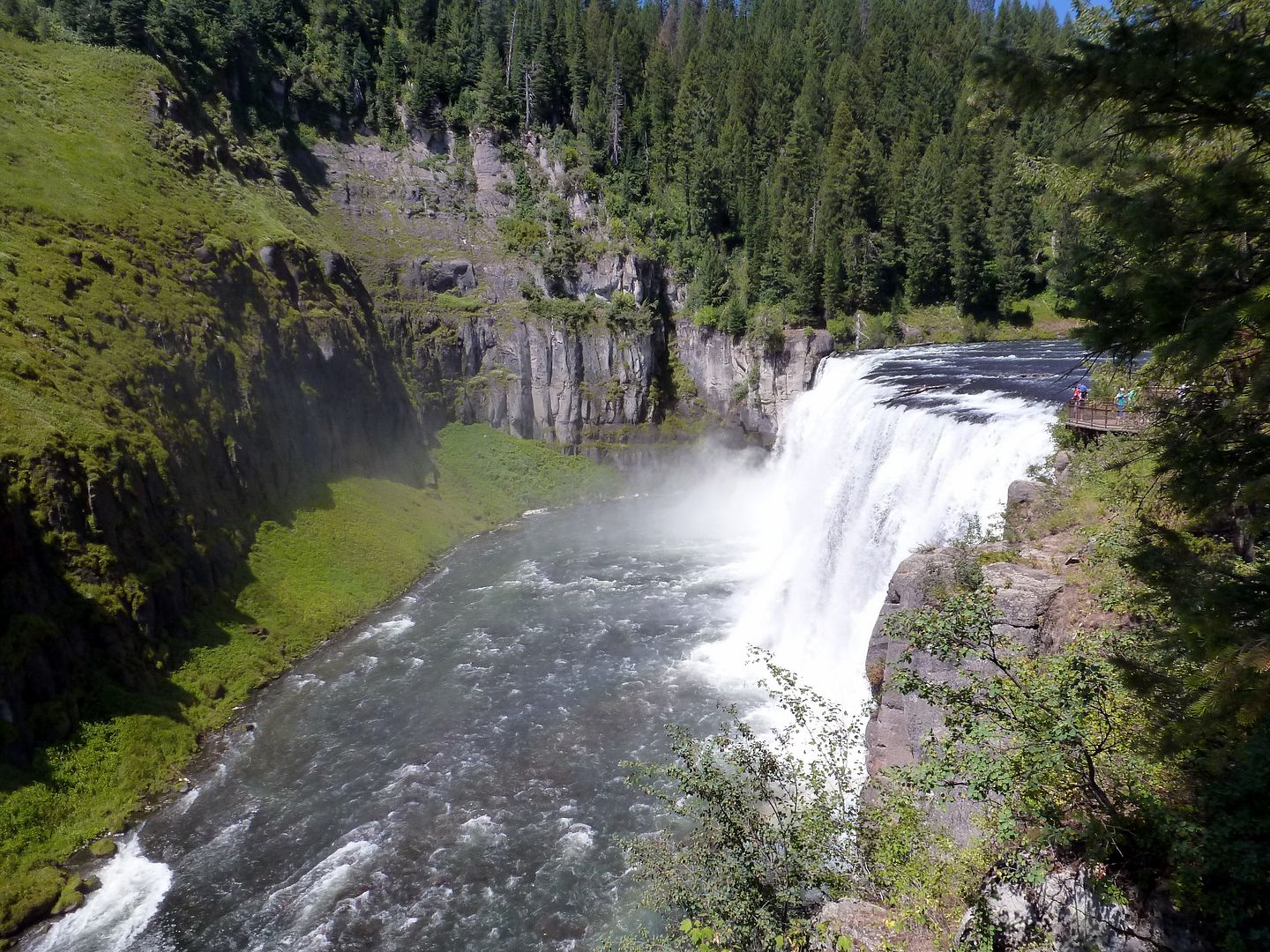 You can get pretty darn close to these falls. Glad I stopped!

From here I followed the Flagg Ranch Road to the Wyoming border where I entered Yellowstone Park and got my first glimpse of the Grand Tetons--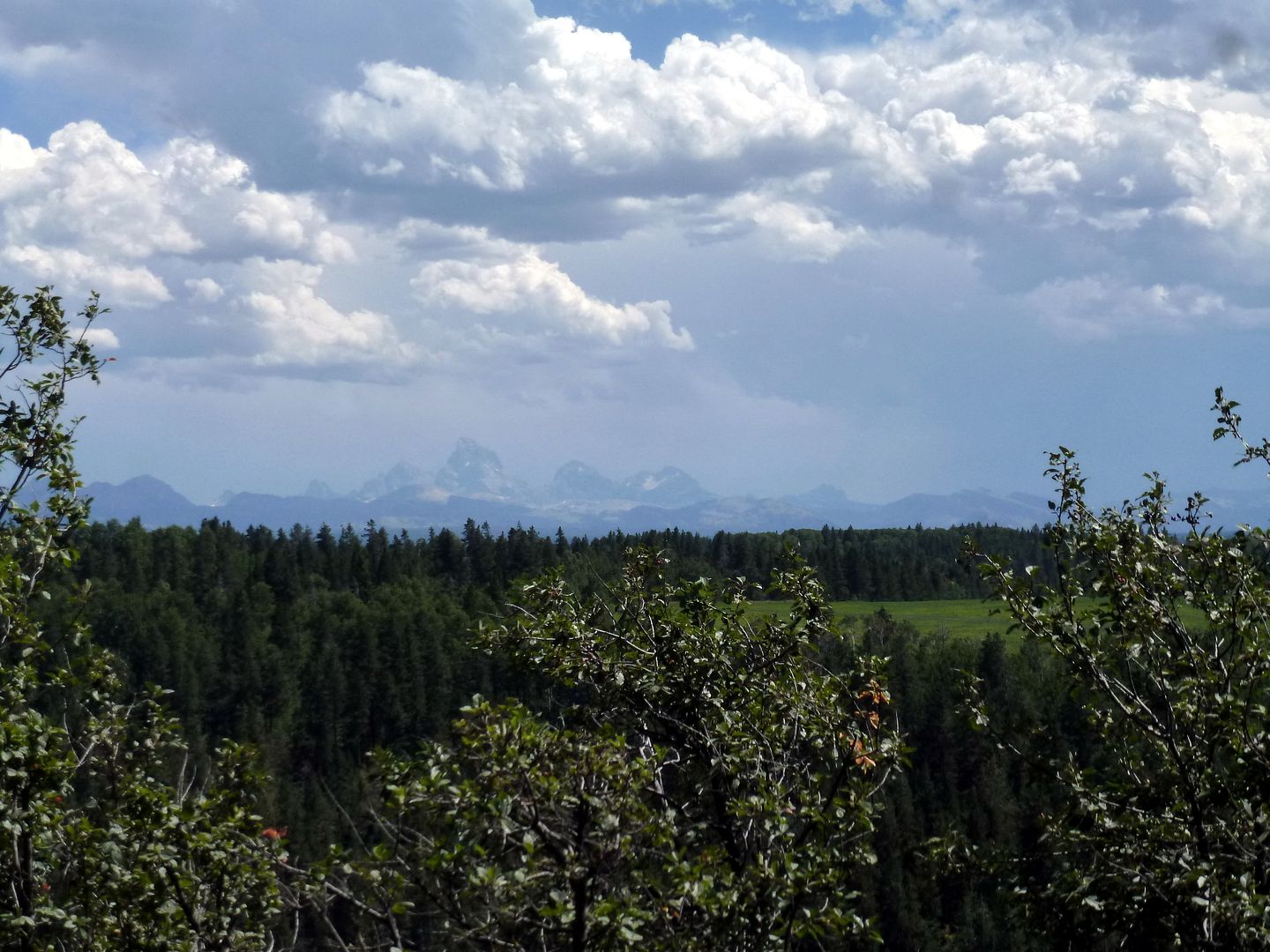 Earthen dam--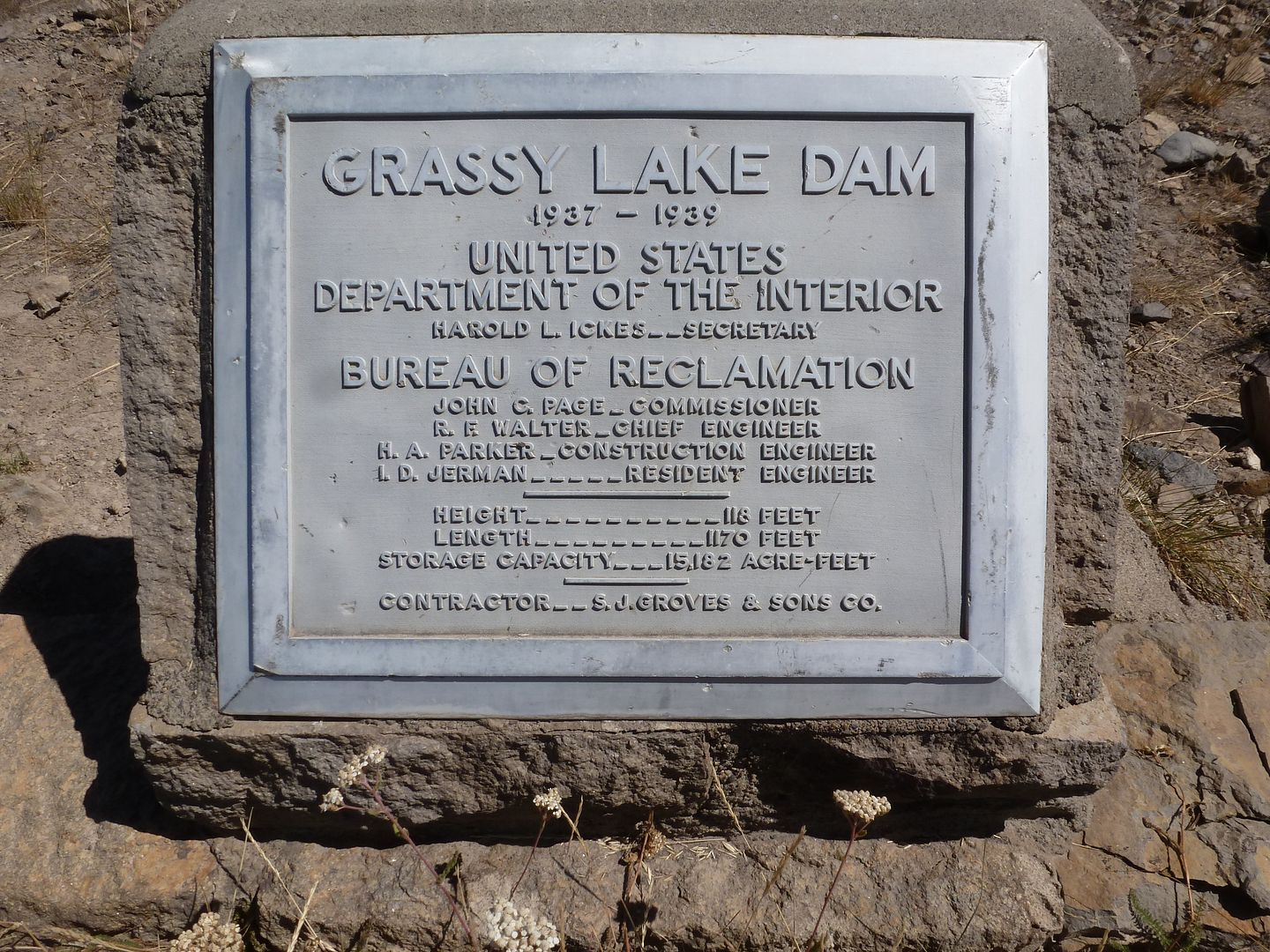 After Grassy Lake the Flagg Ranch Road turns into the Rockefeller Parkway. This parkway is not anything like the Garden State Parkway or the Blue Ridge Parkway--





The parkway ends at the Flagg Ranch on State Rt. 191 where you turn south on pavement toward Jackson Lake and Jackson, WY--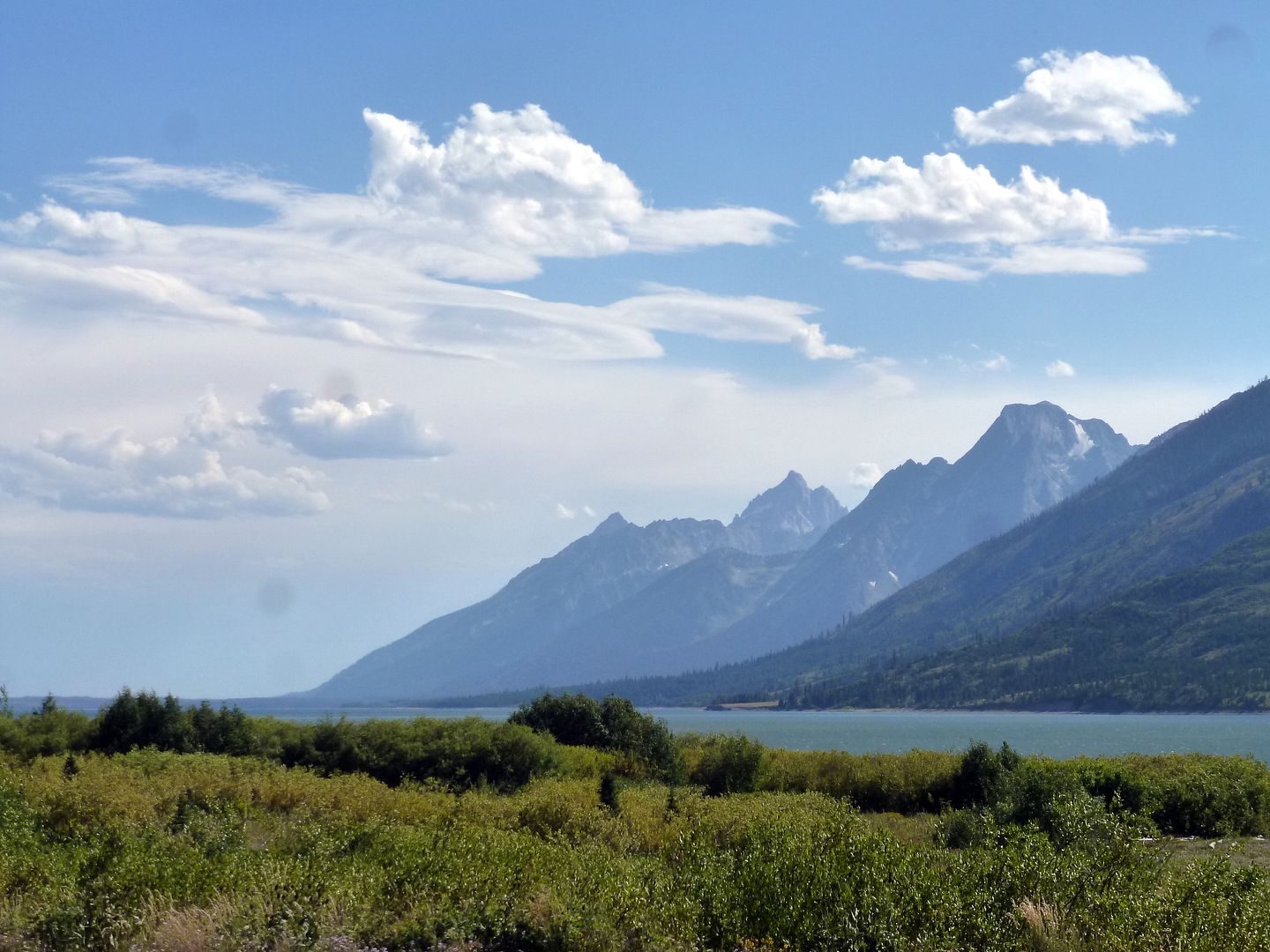 Unfortunately, this 15-mile stretch of pavement between Flagg Ranch and Moran Junction took me over an hour because of construction. I stared at my GPS trying to find an alternate route but there wasn't one. Finally got to Moran Junction about 5pm and broke out of the stop-and-go tourist traffic by turning east on Rt. 26 and then northeast on the Buffalo Valley Rd. Yay! Back on the GDR and back on gravel!

186 miles this day including construction delays, sightseeing trips, and linear actuator repair. 2686 miles since leaving Tacoma.

The picture above was the last one I took before the crash.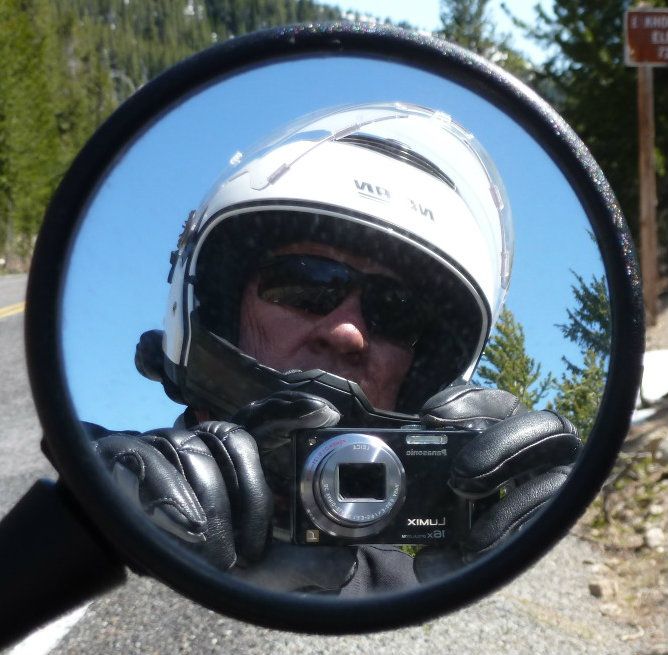 Posts: 283
Location: Tacoma, WA, USA
Right after climbing up a series of steep but fast uphill twisties just south of the Buffalo Fork River on a well-graded gravel road called the Turpin Meadows Road, I reached a flat, straight stretch of road. I slowed down to about 30mph and began to cruise leisurely towards the intersection with U.S. Rt. 26 which was about one mile south.

My front wheel rolled over a small rock in the middle of the roadway, a rock that was no different than maybe 100 others I'd rolled over that day, and 100's of others I roll over every day I ride on backcountry roads. I even went back later to get a picture of this rock, and you can see that the grader has actually ground it down so that it almost even with the roadbed--





For whatever reason, this bump dislodged the ball joint from the lower fork bridge on my bike. There is a lengthy technical discussion of this failure over on the Adventure Rider forum. I really don't want to go into it again here. Let's just say that the bike started skidding left and my weight was thrown towards the sidecar. As I attempted to regain my balance, the motorcycle left the roadbed. First the front wheel went over the edge of the embankment, then the skidplate struck the ground, then the whole outfit skewed around 180 degrees from the original direction of travel as the sidecar flipped up in the air. The outfit then did a half flip, throwing Kirby clear, but throwing me to the ground before the rig landed on top of me.

Later, I went back and measure the front wheel skid. Here it is--





It was 50 feet from the stone bump to the exit. At a starting speed of 30mph, and a estimated exit speed of 20mph, this means that I went airborne off the side of the road about 1.3 seconds after hitting that bump. In other words, this whole thing happened in the blink of an eye! One second I'm toot-tooting along with not a care in the world, the next second I'm face first in the dirt with the rig on top of me.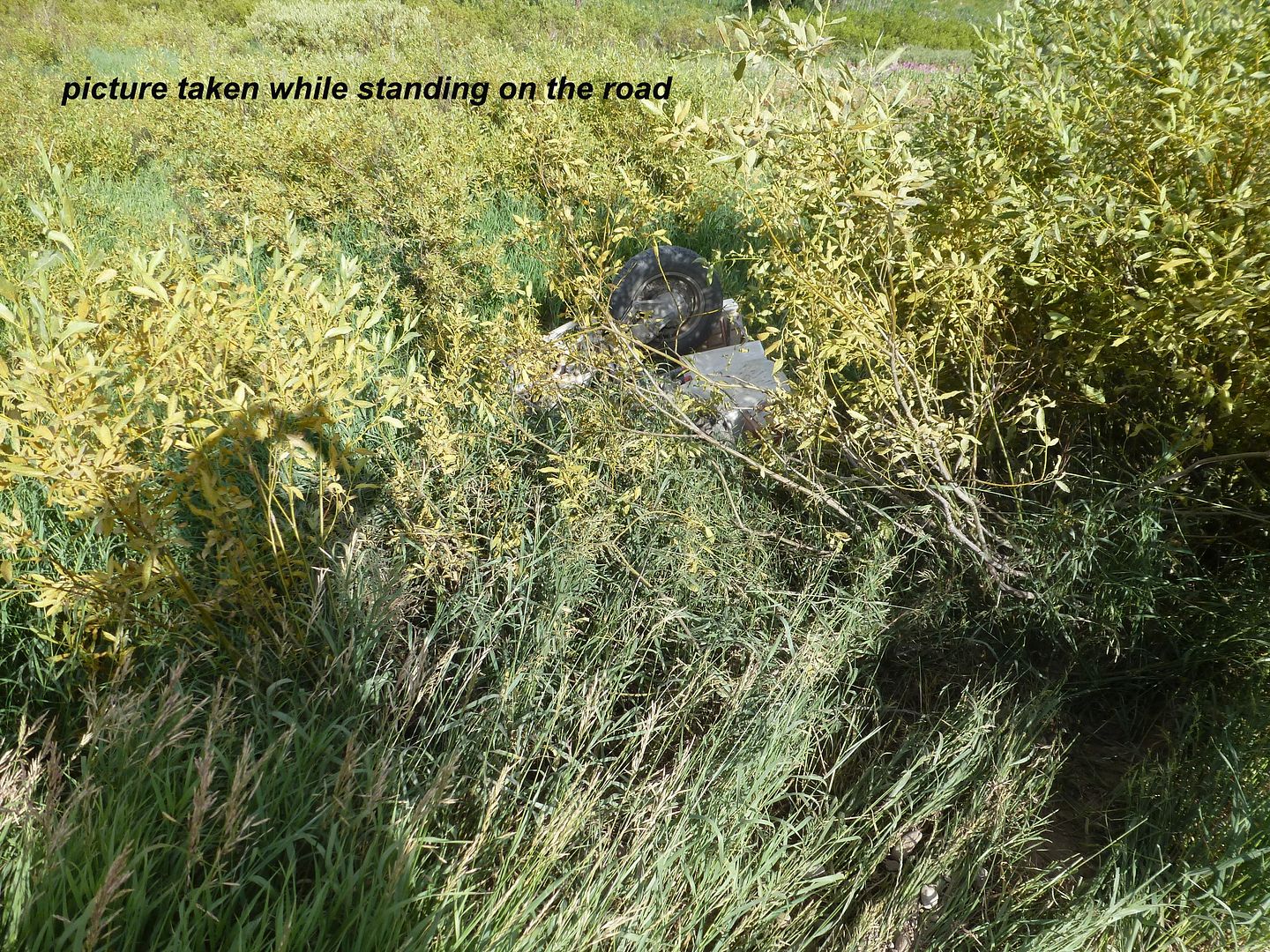 Picture taken after climbing down the embankment to have another look--

The upside down rig landed on top of me impacting mostly on my left leg below the knee and the right side of my ribcage and shoulder. The wind got knocked out of me. I don't know if you've ever had your wind knocked out, but for me what happens is my brain retreats into a very primitive place where it is not aware of anything except for the need to breathe--no sensation of time, no sensation of pain, no vision, no awareness of my surroundings.

When I started breathing again, my vision returned, I crawled out from under and got to my hands and knees, then looked around. There was Kirby standing inches away staring intently at me! Next thing I did was to lay down on the top of the skid plate and carefully reaching down I found the keys, turned off the ignition, and removed the keys. Then I found my way up to the road.

About a half hour later a young couple from Boulder CO came by in their Subaru station wagon stuffed to the roof with their two young kids and camping gear for a week-long vacation. Somehow they made room for me and Kirby but there was no room for any of my stuff. But the rig was very difficult to see from the road so I thought there was a good chance that it would remain unmolested until I could return. If you were driving past here at 35 mph you'd never notice anything--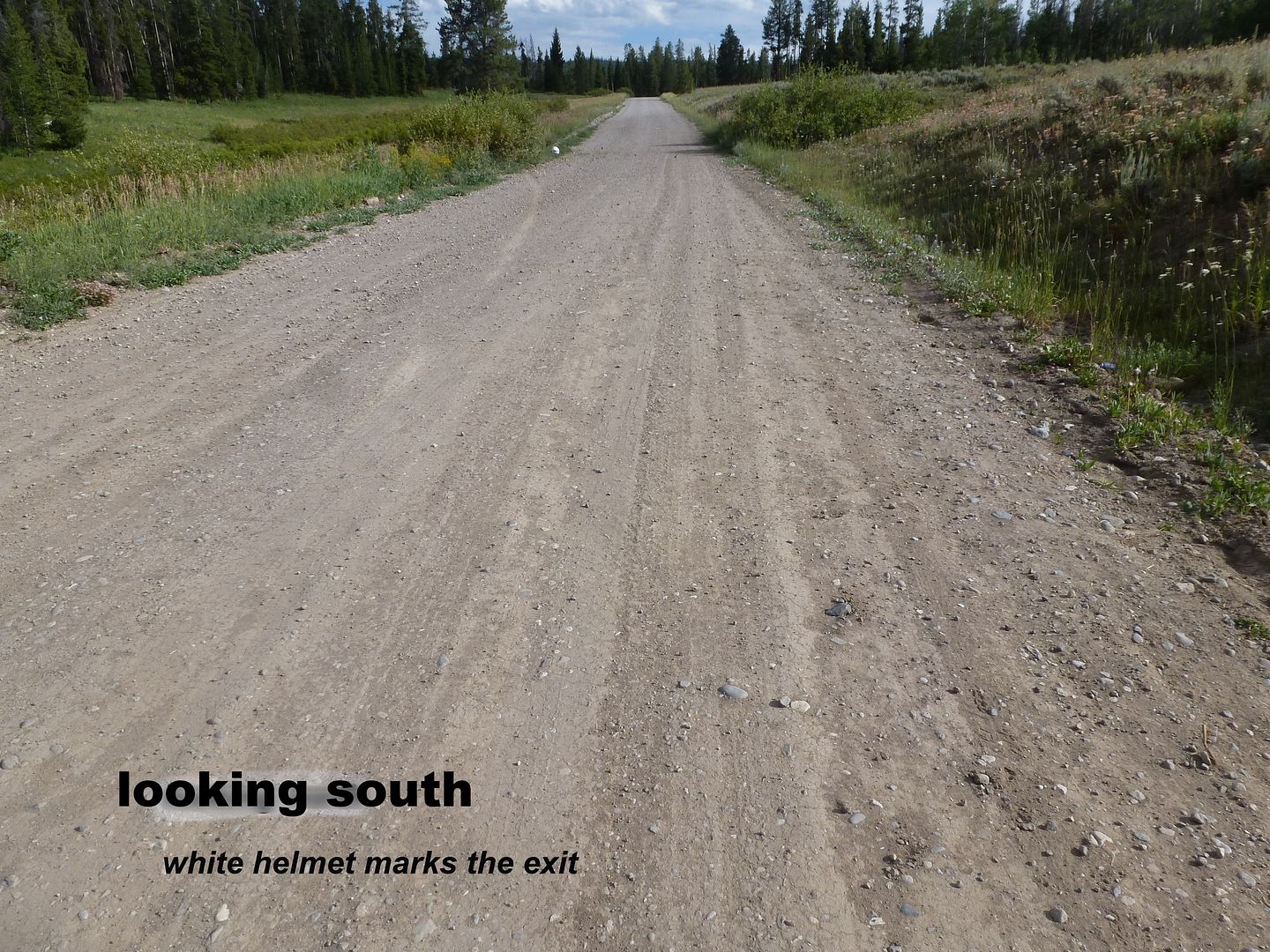 This young couple then drove me to the hospital in Jackson about an hour away. Leaving me there, they took Kirby and their kids and went in search of some dinner. They returned around 8:30pm to report that they had not been able to find a motel anywhere near Jackson so they had to go find a campsite somewhere. They planned to leave Kirby at the local shelter! I did not hear this directly from them--they told this to my emergency room nurse, Kristen.

They had Kirby on a leash as they spoke to Kristen outside the emergency room entrance. Well, if Kirby is anything, he's a lady killer. He took one look at Kristen and started putting on all his best moves. Kristen of course was immediately smitten (really, she never had a chance!) and so she took Kirby from the young couple, called her husband on her cell, and had him come to the hospital to fetch the K-man. Kirby spent the next two days at her house entertaining her two daughters. Here's Kristen and one of her daughters two days later when she brought Kirby back--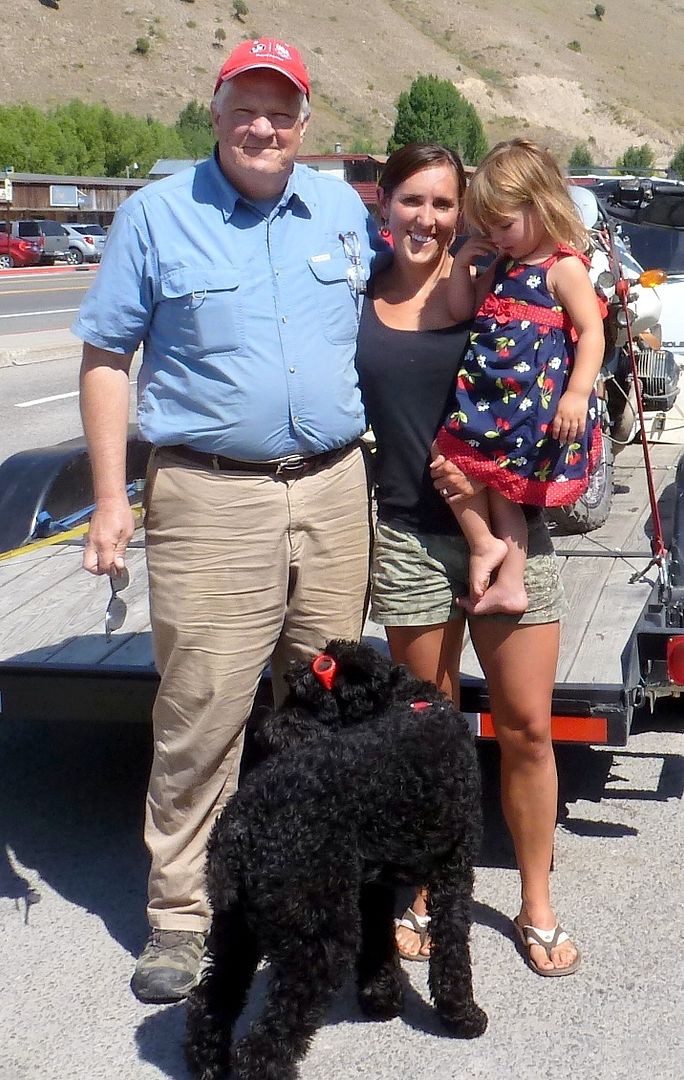 I was in the emergency room for about 5 hours (there's always lots of idle time in an emergency room) and had time to make some calls. Called my wife, my buddy Snooker in Boulder, my other buddy Boxertwin in Boise, the County Sheriff, and Progressive Insurance. The Sheriff's Deputy came and interviewed me there at the hospital, wrote up his report, and wished me luck. Progressive got to work finding a tow truck. Snooker got on the web trying to find if there were any folks he knew in Jackson who could lend a hand. My wife called Boxertwin and the two of them started making plans.

After the x-rays and CT scan came back showing no internal injuries and no broken bones, an orderly took me in a wheelchair two blocks down the street from the hospital to the Hitching Post Lodge where Kristen had made arrangements for a room (no dogs allowed.) I was able to walk a only few steps at a time, so could not walk there on my own.

Boxertwin, bless his heart, dropped everything, hooked up his flatbed trailer to his Chevy Suburban, and the next morning headed to Jackson--a 7-hour drive! BT arrived in Jackson that next evening, and the following morning at 8am--about 39 hours after the accident--he and I met up with the tow truck driver Steve that Progressive had gotten for me and we drove together to the wreck site to recover the rig.

As soon as we arrived, BT and I scrambled down to the wreck (I was floating on Percoset.) At this point I did not know what had happened, just that something had broken, and I wanted to verify that it was not some sort of driver error that my mind had erased from my memory. Within 15 seconds of getting to the rig, BT and I discovered the separated ball joint--
Once the rig was topside, we stripped off all the bags and panniers, etc, then we loaded the rig onto BT's trailer--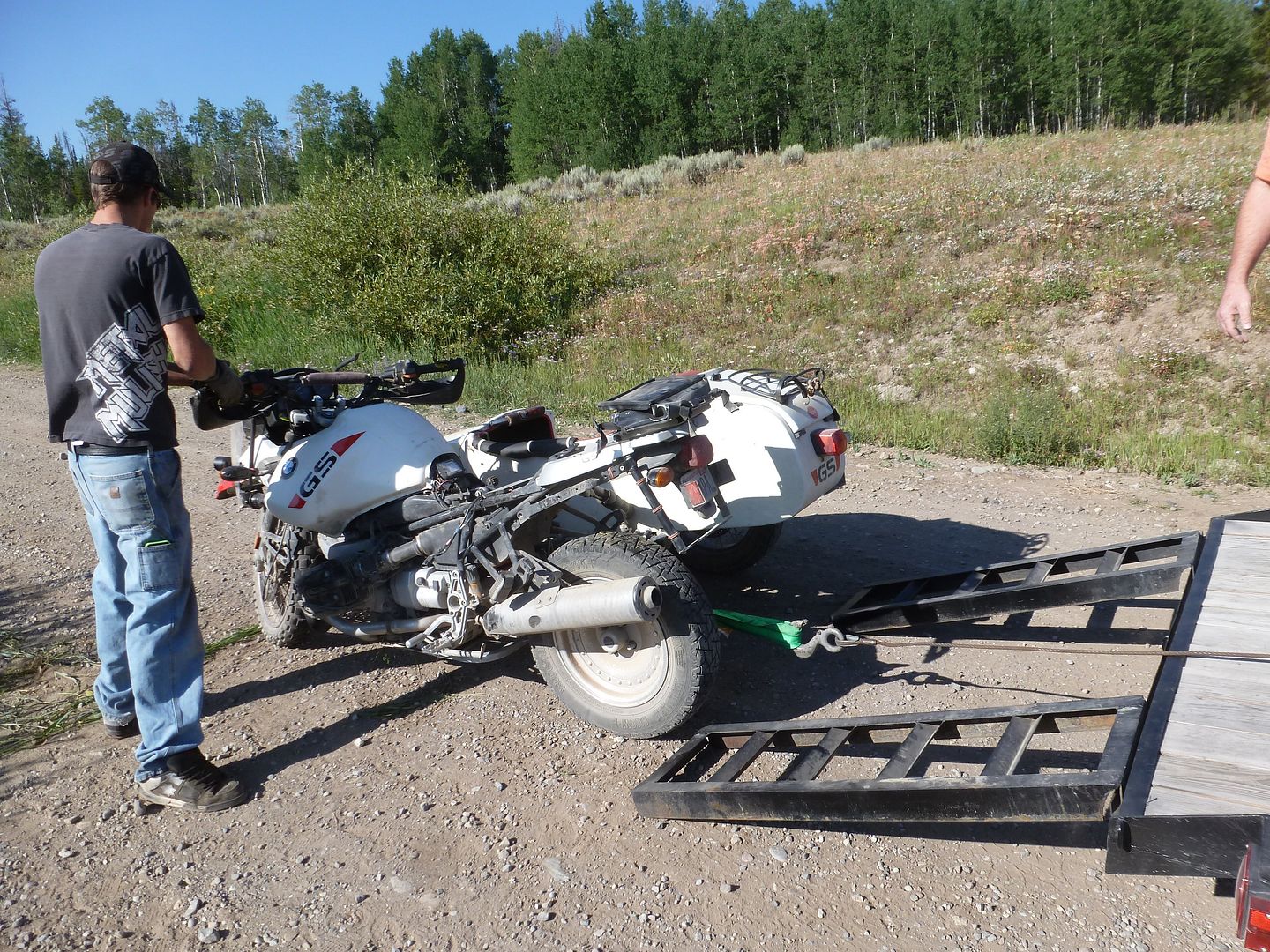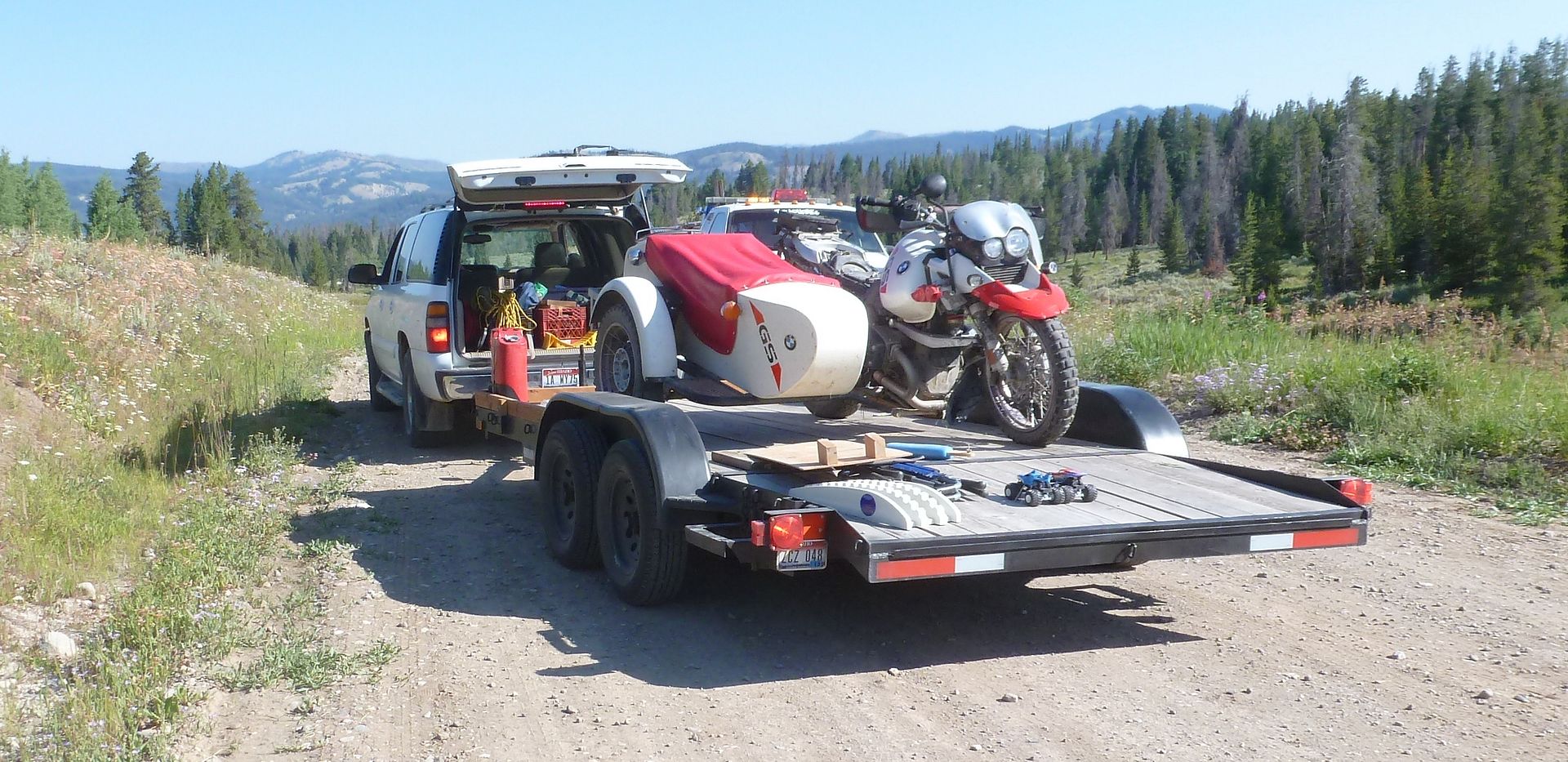 Then we drove to Jackson to get Kirby then on to Boise where I spent the night at BT's house with my wife who had made the 9-hour trip from Tacoma. We left the rig in Boise and drove back to Tacoma the next day.

I can't tell you how grateful I am to Boxertwin for coming to my rescue. I was banged up, barely able to get around, and not totally in command of my faculties. He sized up the situation for me, took charge, organized everything, and executed my rescue. You guys can only hope to have friend like Boxertwin!





Here's to Boxertwin!
Edited by DRONE 9/2/2013 1:39 AM