SWEET SIDECARS ARE BACK IN PRODUCTION:
It's been some time since I've posted and once again I would like to thank
all of my many followers that are so kind as to write and in some cases phone me. I've receive almost one hundred emails
over the last year asking me to "please post about what's going on in my life and what's the latest with my

Sweet Sidecars".
Around a year and a half ago I was with a friend that at one time was the head of the Kennedy Space Center.

We were talking about retirement and he said something that made me think for a minute. My thinking about
retirement was once you retire your done and out of the free market place. Dan on the other hand told me

that "he had retired six times and was back in it with both feet". I reflected on Dan's statement and it turned

around my thinking. Over the next months I decided to re join the market place and bring my Sweet Sidecars

back into production but in limited numbers. What happened next has been interesting.
A year ago I was thinking that I would be quite pleased if by the end of 2015 not 2014 I could have twenty

five new Sweet sidecars out on the road. It's been less than a year and I just finished up the twenty fourth

Sweet sidecar and I'm working on number twenty five. I'm a year ahead of my projections. I never thought
that the market or the interest would be so positive and some day's I have to almost pinch myself. I started the
year 2014 with a plan to build three Sweet sidecars for a motorcycle show. The show was in March, 2014 in

Charlotte, North Carolina. My friend John and I ended up building two new Sweet Classic sidecars installing

them on Sportsters. We also built a Sweet Classic specifically for the show with no rods or brackets figuring
that they; that's those interested would figure it out. Well, they didn't and we ended up spending more time

explaining what the show sidecar was all about. You would think that someone with my experience would
know better but it just goes to show you that best laid plans can and go astray. They thought that I was selling
just the body. It was funny because many at the show would pass through one hall where John's two

Sweet Classic sidecars were in the bike show. Then walk into the manufacturers area and see the display

sidecar and not figure it out. In the end, we learned a few things, but we did have some interest and I sold a

few sidecars.
My friend John had a great show entering both his Sweet Sidecars against many of your big hog factory built
rigs. The show in Charlotte is one of your better shows because they let the people make the choices as to

what bikes win. Many of the other shows be it cars or bikes will have the entrants pay an absorbent entry fee

so that the trophies are paid for and then the show promoters will hand them out to their friends. This was a

peoples choice bike show and as luck would have it John won not only first place but a second with his other
sidecar. To say that the hog guys were upset would be an understatement. All I did was stand back in the

crowd and smile as I listened to all the griping. It was the first time that John had ever won a trophy and he

surely was excited not only winning one but two. The promoters liked his Sweet sidecars and asked John to

bring them back in the Fall for the next show. As it turned out we were just to busy doing other things to

attend the Fall show. Possibly this Spring we will make another appearance.
The show is over and the crowd has gone as John stops for a quick picture.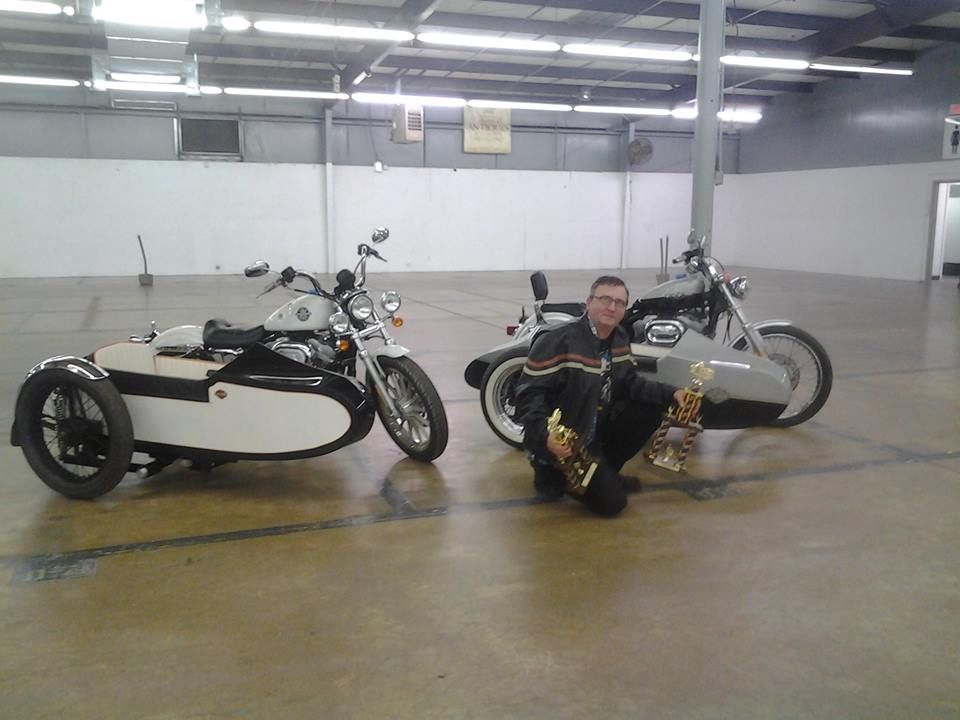 Once the Charlotte show was over we went back to the shop and the orders started to come in. We met some
great people and had a good time building and teaching the new owners how to drive their new

Sweet sidecar rigs. Along the way something very surprising happened. I figured that at this time in history
the only interest would be with my Sweet Classic sidecar. But once some prospective customers saw my

Sweet SL-220 and 440 sidecars they were not only interested but they wanted one. I had some SL models in

stock and the interest in them surprised me. At times I've thought that I'm to close to this sidecar stuff can't
see it like someone that's new to sidecars. Envisions it A good example is when I'm out on the road with

one of my sweet SL-220 sidecars and stop for gas or a snack. People come up to me all the time and ask
"how I like the sidecar". The answers always the same as I reply, "I'm sure having a lot of fun with it".

They then ask "where I got it" and when I mention that "I build them" the conversation always gets

interesting. The average person in this day and age doesn't know anyone that manufactures something.

They go to a store or dealership and never think about how the product got their. When they meet someone
that actually builds something they always have interesting questions. I always get a lot of enjoyment out of
talking with these people. I know that they will never want or consider a sidecar but the interaction with

them is always enjoyable. Especially when I describe the manufacturing process in simple terms that they

can understand. The smile on their face is always great to see. Then if they at one time in their life worked

on a line producing something. They will explain just what they did and a one minute conversation will last

for five minutes. In the end a new friend is made with sidecars being shown in a good light. When I mention

that I sculpted the original sidecar design over forty years ago they're always quite surprised.
An interesting little side note: I had a thirty, forty something tell me not to build my sidecars with the wing

on the back because they would never sell. So when I started driving the roads and showing one of my

Sweet SL-220 units with the whale tail it seemed that the comments about the little wing were always

positive. Some that wanted an SL-220 or 440 would ask if they could get it with the little wing and we even
had one lady that called it a whale tail. It always reminded me of an add that I saw on TV about a guy

selling a green AMC Gremlin. Who would want a green Gremlin in this day and age? Then it shows some

young guy in his bedroom on his computer all excited as he hits the buy button. The room is all green with

everything in it green. Go figure; with three hundred million people there is a buyer for almost everything.

It's just finding the buyer. So even though my little whale tail isn't for everyone I still have people interested
in it.
Over the Summer months I spent a lot of time out on the road and it didn't take long to meet and become
friends with other military brothers. One thing about us military veterans is that we befriend and respect any
veteran but their is an unwritten pecking order that's never talked about. Many times Marines will hang with
Marines and Navy with Navy and that's the way it should be. Then their are us Army Combat vets that hold
the "Combat Infantrymen badge". It's something that's never talked about but we holders of the "CIB" do
hang out together and will find each other in a crowd. We are friends to all but the bond between the
CIB brotherhood is a bond that few understand. This last Summer I met and spent time with many new
CIB brothers that without my sidecar I may have never met. Most are from my generation but more and

more are from the Iraq War. Many of these young vets need help just like many from my generation did
over forty five years ago when we came home. Seeing one generation of CIB brothers reach out to the
next generation is comforting to say the least.
So when I was asked by a young CIB brother if I would build a sidecar for both he and his "Service Dog"

I jumped at the chance. Mike was with the US Army's 3rd Infantry Division and did his time in hell as an
11 B. If you the reader are wondering what an 11 B is all about "look it up". During his deployment Mike

at one point spent four days in a fox hole that started out shoulder deep and after firing 20,000 rounds was

knee deep with spent rounds under his boots. This is probably something that the protected will never
understand but it's the way it was for Mike. It's interesting in that the rest of our great nation were home
complaining because the cable TV went out or that they were out of Chicken Mc Nuggets. It is what it is

but for Mike his world was changed forever.
When Mike asked if I would build him a sidecar it was not only an honor and a privilege but it became a

"Labor of Love" from one CIB brother to another.

Mike with his service dog Annie who took right to Mikes new Sweet SL-440 sidecar.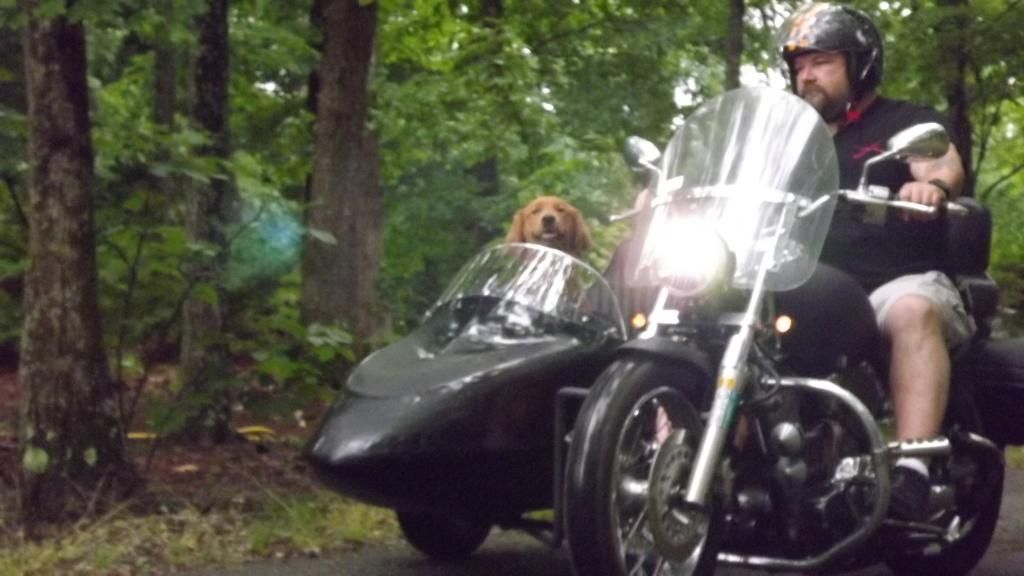 Mikes new Sweet sidecar when it was painted honoring those missing in action and with the CIB badge on the whale tail.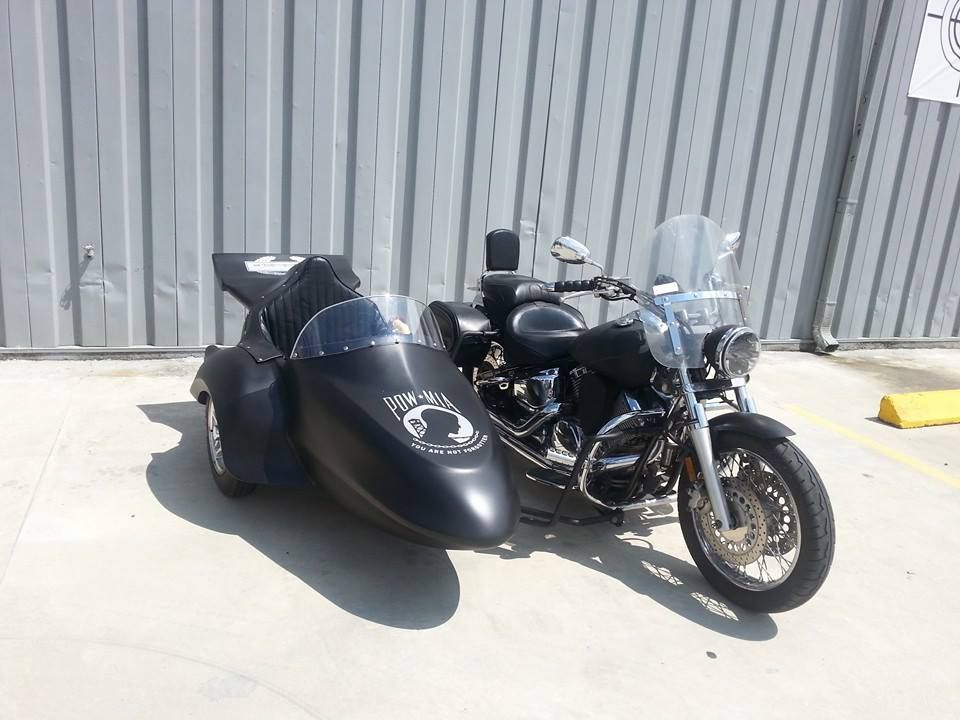 I travel with friends driving one rig with a Sweet Classic sidecar and the other with a Sweet SL-220.
Just up the street from my shop is the Cherokee Scenic Trail and at the local four way stop intersection is a
gas, restaurant and service area. At almost any time during the warm season there can be any number of

motorcycles coming and going. As we hung out over the Summer our sidecars were seen by hundreds of
people. At first both John and I were surprised at the interest and response to the sidecars. We soon figured
that we needed some business cards to pass out. Vista Print has the best deals. We have gotten use to the

attention the sidecars bring. It doesn't matter where we go the interest and attention is always the same.
It's something people never get to see and the differences in the two models make it interesting. The Harley
people both woman and men will look over John's Sweet Classic sidecar and not give the SL-220 a second
look. Then you will have a guy or gal that drives a Harley that will walk over and start asking questions

about the the SL-220. Some have said "I have two other bikes one a BMW and the other a Honda". So not
all the Harley people snub the SL-220. In fact as the year has passed I've found that many motorcycle riders
have as many as four different bikes. So the interest in all my model sidecars come from people with many
different brands of motorcycles. This was not the case forty years ago.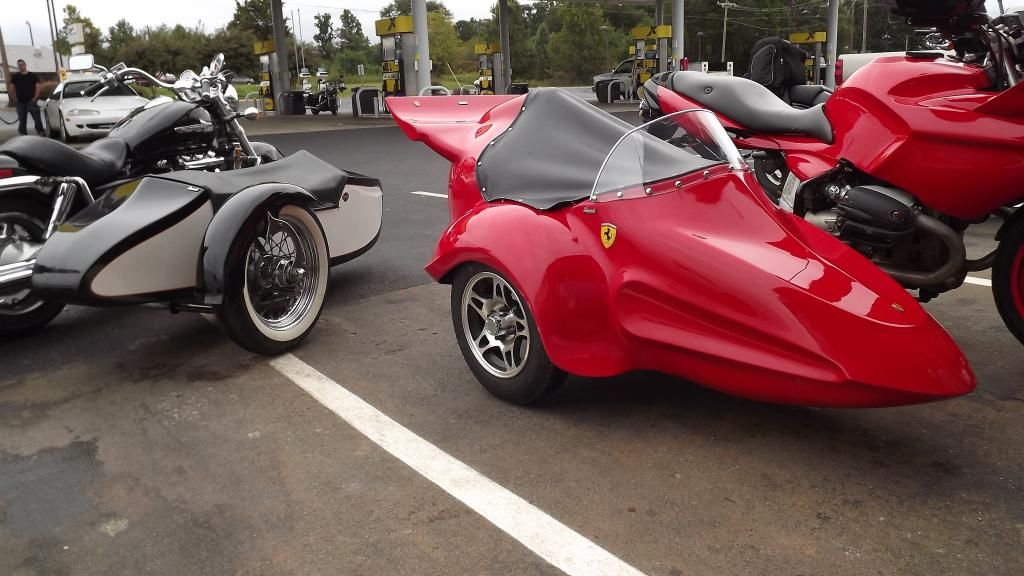 Some of you may like this little story. At times the study of human nature can be interesting. One Saturday
morning John and I pulled into the service area and the parking lot was full of bikes. We split up and parked

in front of the store but on opposite ends of the parking lot. A big mouth guy walks up and had some
comment about my little red rocket being a crotch rocket or some such thing, that is the SL-220. I'm so
thick skinned that stuff like that just rolls off. He was all Harley with all the crap, tats, piercings, and full
leathers. Not that I think that's a bad thing it's just an identifier. He then walked to the other end of the
parking lot running his mouth the entire time and then he saw John's Sweet Classic sidecar on his Sportster.
He asked who owned it and John walked up and introduced himself in his European Polish accent .

The guy went nuts and wanted to know where John got the sidecar. John told the guy that "we build em".

The guy was all excited and wanted to know how he could get one and how much. So John told the guy to

follow him and they walked back across the parking lot in my direction. I was talking to some fellow bikers

Vets that I have gotten to know over the past months as we hung out at the corner. As they were walking in
our direction I mentioned to my fellow Vets about the guy having a "Big Mouth" and what he had said.

As John walked up he introduced the guy to me and said "that's Johnny, he's the designer and builder".

At that time my Vet friends in the group chimed in and the guy didn't know what to say. He knew that I had
heard his comment because he was purposely trying to be insulting. That one in a thousand just can't seem
to help them self's; they are what they are. I was polite to the guy but told him "I don't think sidecars are
for you" and left it at that. Moral of the story follow one of the Golden Rules. One should not treat others
in ways like one would not like to be treated. He was then ignored by everyone and got the point and walked
away. "No sidecar for you "! In another time in history when all us young former combat soldiers were just
back home we looked at guys like him and just figured that we will allow you to live another day.

Funny how some things never change; the one in a thousand will always pop their ugly head up.
My Little Red rocket:
I decided to do something a little different on the side. We have a former BMW 1100 racing bike and figured
why not install one of my Sweet SL-220 sidecars with the whale tail on the back. I looked over the bike and
figured it would need a sub frame under it to mount the lower rods . Like all my sidecars the way I set them
up is different. My set up allows me to remove the sidecar in three to five minutes and re install it in five to
ten. The advantage is that there is never any need for any adjustment when remounting the sidecar.

The "Little Red Rocket" as we call it was built in a matter of just a few day's. As we were assembling it the
idea of attaching Ferrari badges on it came about. I've always liked the Ferrari's and in the mid1990's my

wife and I had a Testarossa. So the Ferrari sidecar theme was born. It's been great fun interacting with

people when they ask "is that a Ferrari" or "I didn't know they made a Ferrari motorcycle". We always tell
them the same thing, "It's not a Ferrari motorcycle but a BMW. So the little red rocket with the Ferrari badge
s makes it to a lot of the different places including a few bike shows. I pull it right in the middle of all the

Harleys and It's always a fun time because you never know what the response will be. It's funny but it's always positive. Plus I'm an old vet and the bond that we vets have is a brotherhood that the protected will never understand. Fun is always being had by all.
The old man with his Little Red Rocket and a Buell with a SL-220 sidecar on the side.
My new sidecar customers are more astute than one would think.
When word got out that I started building my old/new Sweet sidecars once again I started getting calls and
visits from people that had been following me for years on the sidecar forum. and through word of mouth.
I didn't know this at first and thought it interesting that they knew so much about my sidecars and how they
are built. Many of the twenty plus new customers have been driving sidecar rigs for years and a few have

had as many as five other sidecars. So when they decided on having me build them a new Sweet sidecar I

did have to ask; "why me? Some of the answers were interesting to say the least.
As in the past going back decades my customers are looking for a sidecar that they can easily remove in a
short time and re install it without it being a big production. Most will only drive their sidecar rig a few

thousands miles a year. If anything the sidecar rig is something different; a status symbol if you will.
Others need a sidecar because they can no longer hold their bike up and others need a sidecar for their pet

dog. So as you can see the needs are different but the end result is always the same. Customers are looking

for a product that's well designed and within their price range. Not everyone is looking for all the frills, bells
and whistles. There looking for a sidecar that's bare bones and that's what I build.
This is a copy of just one of the emails that I have received from customers.
Johnny,
I can't tell you how happy I am with the rig! You were right, it cruises at 75 mph
on I-95 and I can steer it with one finger. I'm running 50 lbs of sand in a duffel bag on the

floor. With that, I haven't had the wheel lift. It gets a little light on exit ramps, but

completely predictable. This is my 7th rig and I've driven 2 others, without a doubt the best rig
I've ever had. It poured Monday so i drove the truck to work, every other day this week I've

taken the hack. I just love it. I put a Ural nose rack (I had it in the garage) on the trunk.
I have a bag with my rain suit and bike cover on it. Just for show more than anything.
I plan on taking the dog out in it this weekend. Thanks again for everything, I'll keep you
posted and send pictures of its adventures. Dave
Dave's new Sweet Classic sidecar mounted on his duel sport BMW.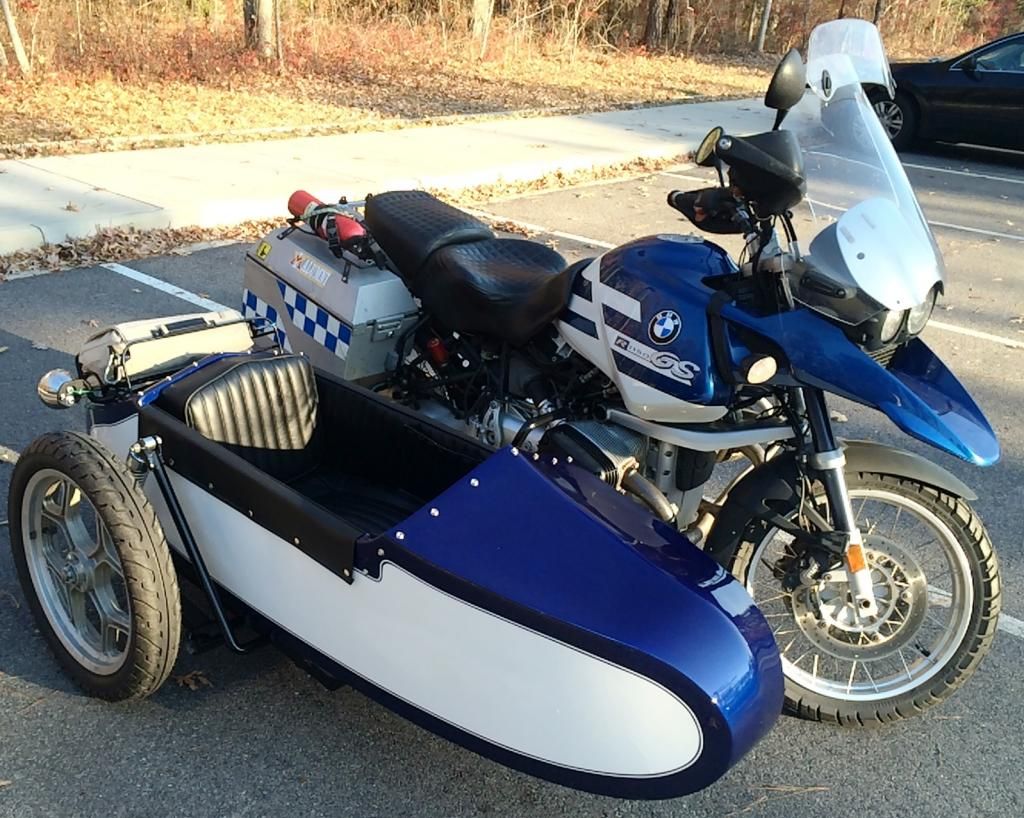 What's up for 2015:
I'm projecting that the same thing will happen regarding my Sweet sidecars as happened back in the 1970's
now that the words out that a guy is building sidecars in the South. Building sidecar seems to be more fun
the second time around. Not that it wasn't a great time the first time around but I'm an old man now and
consider every day is a gift. At the moment I have ten individuals planning on having a Sweet Sidecar built

next season. Again that remains to be seen. I've been asked about a new body design from two different
gentleman for their new modern day Indian Classic motorcycles; so that's a possibility. Designing and
modeling a new product takes time and energy and in the end the Indian sidecar market would most likely
be very limited. In the end I like what I'm building and may just stay with what I have.
A few more pictures of some of the different Sweet sidecar that I've recently built.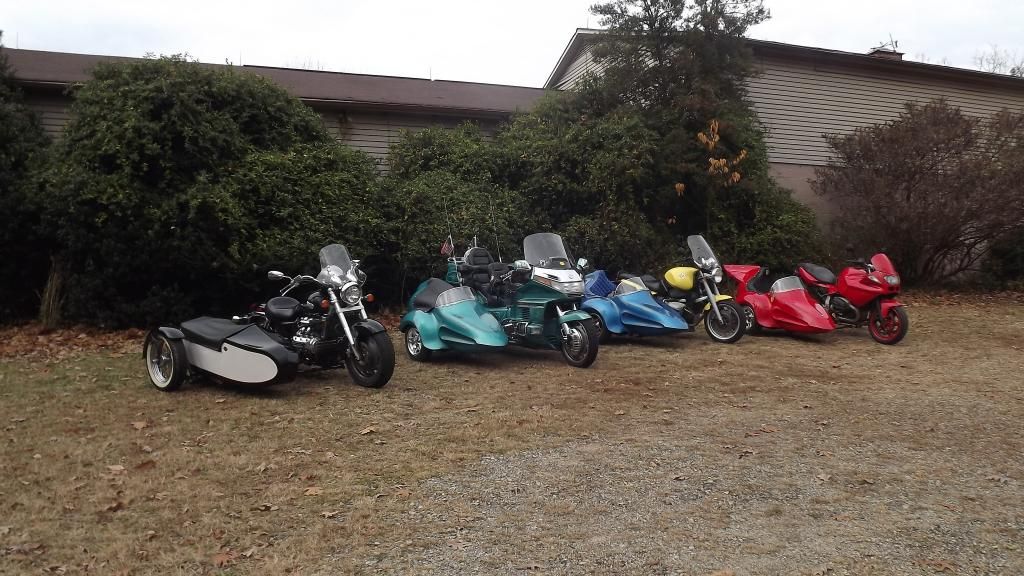 Another Sweet SL-220 mounted on a BMW in blue.

Dad purchased a Sweet SL-220 sidecar for his daughter so I let Dad drive the Little Red Rocket as his daughter learned how to drive her new sidecar.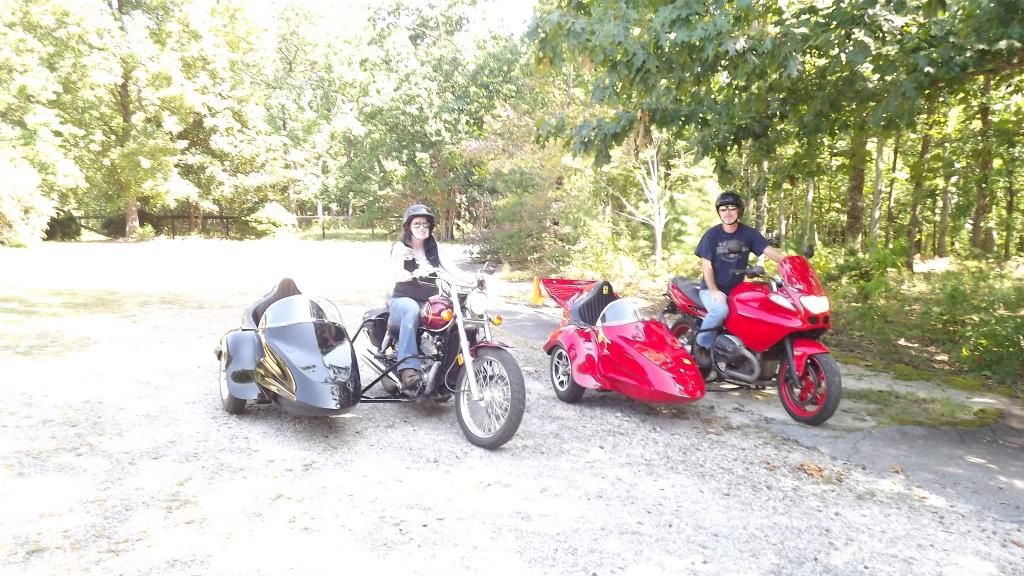 New 2014 out of the box Honda with a new Sweet SL-220 sidecar.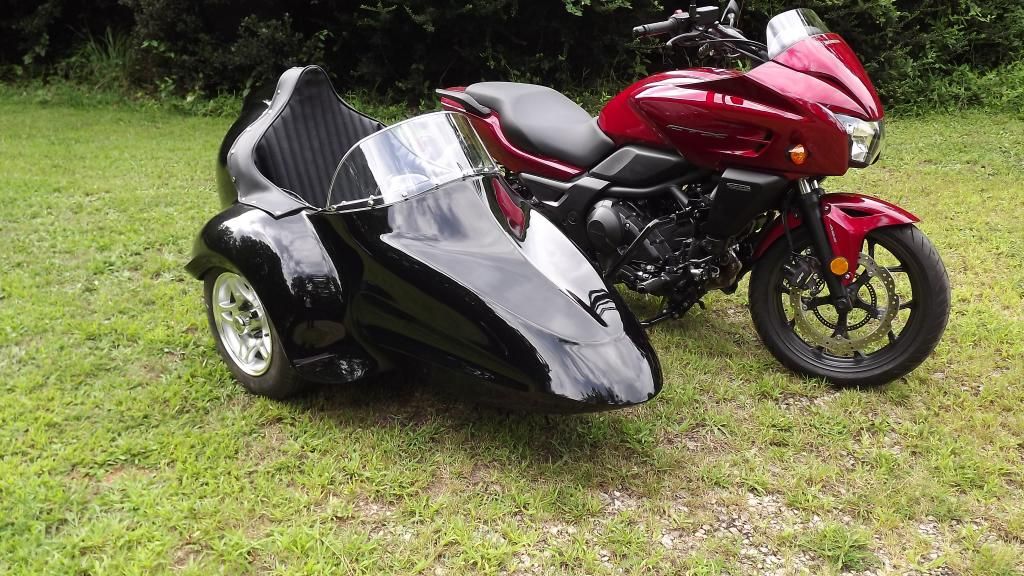 New Sweet Hot Rod Sidecar.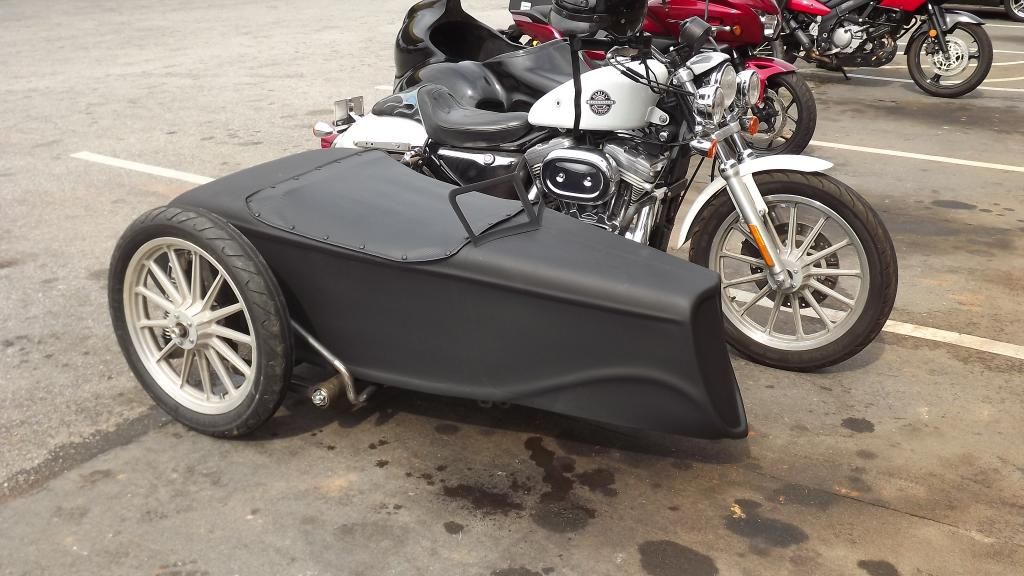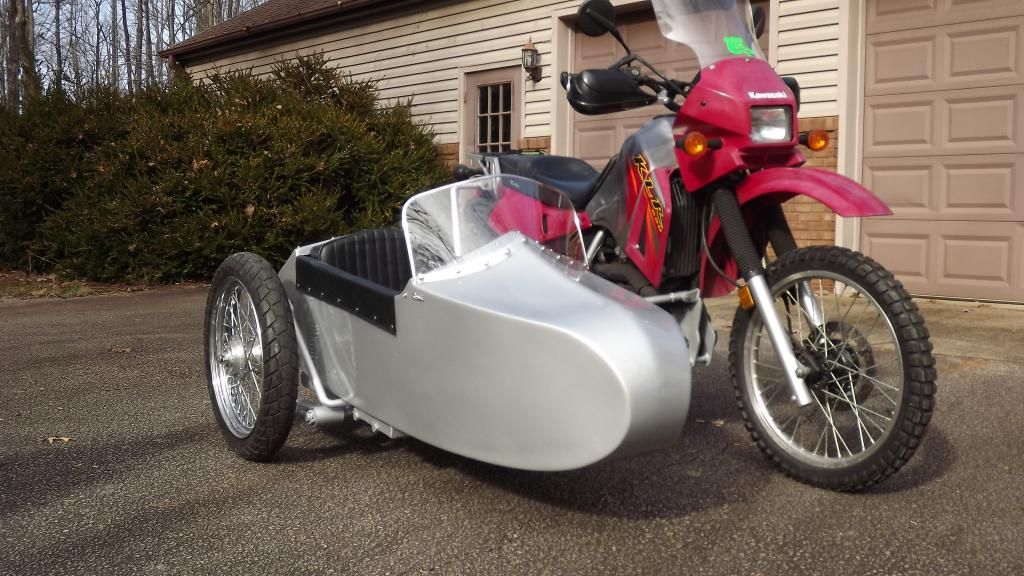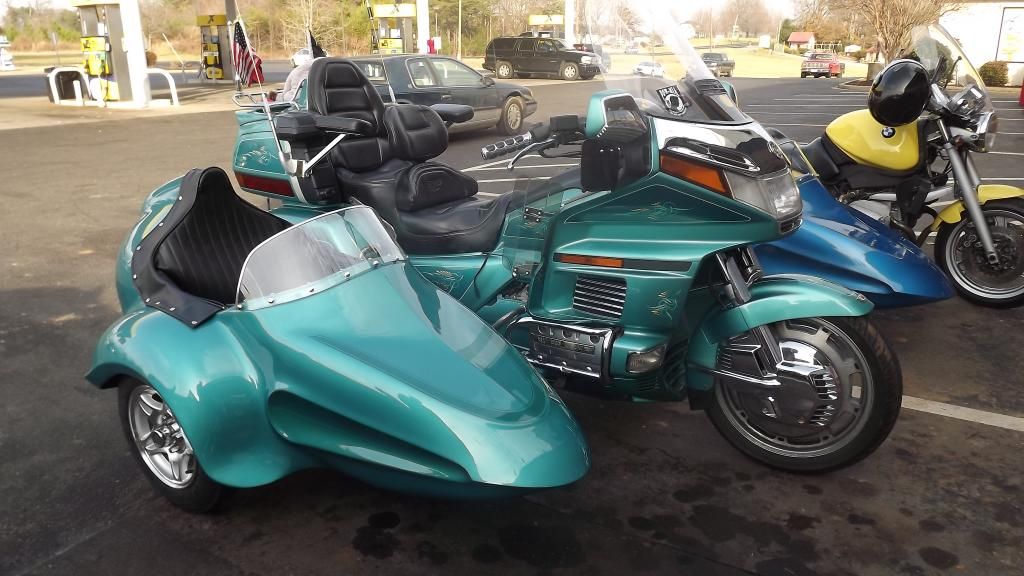 Thanks for reading,
Johnny Sweet
Sweet Sidecars

Edited by Johnny Sweet 2/4/2015 9:20 AM